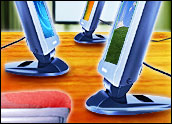 "Beta release." These two words are attached to more and more software releases these days — and not open-source products, either.
It seems almost everything Google releases, for example, is first introduced in beta version, and analysts said even Microsoft has now officially jumped on the beta bandwagon, aiming to create some early buzz for new apps.
Microsoft's Windows Messenger 7, MSN Desktop Search, and MSN Spaces, to name a few, were recently launched as beta products. Analysts said the software giant held two separate conference calls for its Desktop Search product — one for the news media and a second for financial analysts — to discuss its search strategy.
Keep this in mind: The product is not even shipping yet.
Beta Mania
Has the software world gone beta mad? Where have the days of unveiling products as final releases gone?
Analysts said the flurry of beta releases represents a marketing strategy that many software companies are using to hype their products long before they hit the computer store shelves. But those same analysts said that strategy may backfire on some of them before it's all over.
"Software companies are rushing out with beta releases to get a marketing advantage," Jupiter Research analyst Joe Wilcox told TechNewsWorld. "That way when there are bugs in the software they can always use the default excuse that 'it's just beta.'"
What is Beta?
Wilcox said in some ways what qualifies as a beta release has dropped down a notch or two — many beta releases nowadays actually look more like alpha releases. Alpha releases are typically rough builds; not quite ready for prime time software that companies wouldn't release to the public, he said, while beta releases are typically further down the development pipeline.
"Beta is becoming as much a marketing tool as a legitimate testing product," Wilcox said. "Companies want to let the public know what they are doing so now they introduce the beta as quickly as possible. But often the product is somewhere between alpha and beta."
The question, then, becomes: Is launching software in beta (or sometimes even pre-beta) and hoping the hype will pay dividends really a good idea for software companies? That depends on whom you ask.
One Size Does Not Fit All
Kevin McLaughlin, managing partner at Public i, a public relations strategy and execution firm in New Brunswick, N.J. with clients like Spooz, Inc. and Antepo, told TechNewsWorld that one size beta software release strategy does not fit all.
"For emerging technology companies, pre-announcing a product release is typically not a good idea. Bugs, missing or underdeveloped features can turn off prospective customers in a hurry — and it becomes quite costly to revive those leads, if it's possible at all," McLaughlin said.
McLaughlin recommends what he considers a better route to pre-launch buzz: getting "gold code" versions of new software into the hands of press reviewers so editorial evaluations will run prior to "general availability" of the software. He said this adds critical third-party validation for the software's capabilities in lieu of a large user base and testimonials from household names.
Boon for Large Players
Still, for established companies like Microsoft, Google, et. al., analysts said releasing beta software can be a good strategy for quickly refining the product.
When it comes to mature products or brands with a well established user base, its development of new functionality, and subsequent new versions of the software, are usually driven by user feedback, support requests, or user group meetings and conferences, according to McLaughlin.
"Releasing beta can help make a better product, give existing users a warm and fuzzy 'insider' status, and create buzz that simply can't be bought," he said.
Innovators vs. Early Adopters
Mitchell Gooz, author of "It's Not Rocket Science: Using Marketing to Build a Sustainable Business," has advised Fortune 200 tech firms on marketing strategies for 15 years. Gooz said that beta versions, especially of new to the market products, are exactly what innovators want to see, which brings us back to the one size does not fit all argument.
"Innovators love the idea of being the first kid on the block to have something," Gooz said. "But many companies make the mistake of providing beta software to early adopters. Early adopters are perfect users of release 1.0, they do not really want beta software, but they appreciate first release."
A case in point is Netscape. Its first browser was in beta for a long period before the first official version was finally released. The innovators appreciated the opportunity to test drive the Web surfing vehicle. But most of the world was looking forward to the official release.
"There is a legitimate benefit to the beta process," Wilcox concluded. "What's different today is that companies are making almost as much splash around their beta releases as they make around the final release. Beta has simply become more than a testing process. It's also a marketing vehicle."