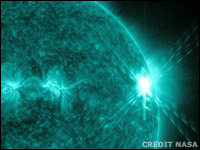 Solar flares — clouds of charged particles and plasma from the sun — have hit Earth, according to the National Weather Service.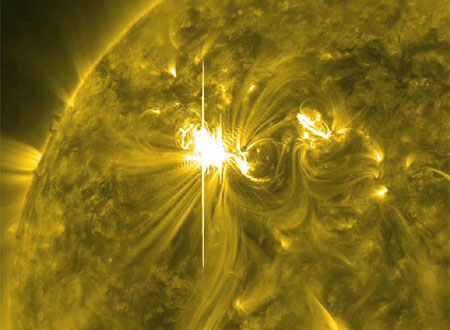 This image depicts a March 6 solar flare captured by the Solar Dynamics Observatory.
The solar flares have been making their way toward the planet since Sunday. The storms don't generally cause direct physical damage to people because the Earth's magnetic field repels much of the radiation. However, as climate scientists learned during a previous solar flare in 2002, the storms can seriously disrupt GPS signals, radio communications and the power grid.
"A varying magnetic field over a very wide area can induce additional semi-random currents and voltage changes in the physical infrastructure of the grid," Bob Gohn, vice president of research at Pike Research, told TechNewsWorld.
A solar explosion, or coronal mass ejection, caused a tiny piece of the sun to break off from its atmosphere and start hurtling towards Earth. The increased activity is part of an 11- to 12-year solar cycle that is supposed to hit peak activity next year. The current storm is rated at a G3 level, which is a "strong" threshold, but not as extreme as it could be.
Besides a strong solar flare in August, the last time the sun let out flares this strong was in 2006, according to NASA. The effects could last into Friday.
Unintended Consequences
Energy technologies have advanced since the past high solar flare activity period, and there are now more communication networks that could be disrupted with this latest barrage of charged particles and plasma. Energy grids in particular could be at risk.
"Our power distribution network is very linked all across our continent, at least in the U.S. and Canada, so it's happened in the past that transformers have been damaged and a large section for the grid has gone down," Charles Kankelborg, associate professor at Montana State University, told TechNewsWorld. "Conceivably that could happen with this storm, although it's tough to tell at this point."
Part of protecting an energy grid is having protective relays in place that monitor the lines for disruptions such as broken wires or impending storms. When a relay detects a disruption on the circuit, it's triggered to disconnect to protect from further destruction.
"Get enough of this and you get blackouts," said Gohn.
However, these protective measures may not be required in the case of solar flares.
An R3, or strong, radio blackout was reported by the National Weather Service's Space Weather Prediction Center on Tuesday. The service warned that similar blackouts could continue until March 13.
"If enough transformers were to go down, the worst case scenario is that a lot of people could be deprived of power for extended periods of time," said Kankelborg. "This doesn't look like a head-on storm, though."
Taking the Sun Into Account
This flare might not be a major threat to communication networks across the U.S., but that doesn't mean such events shouldn't be taken into account when creating energy systems, Kankelborg said.
"That's why power companies are concerned about stuff like this and really working to be as safe as possible when they're building the networks," he said.
Solar engineers are taking those concerns into consideration when building grids. Many of the services in place to protect the system from solar or other disruptions have been transferred to smart girds that use a digital model, according to Gohn.
"Theoretically, these are smarter and should be better able to distinguish between false alarms caused by things like solar flares versus true faults," said Gohn.
The problem is, though, that even though those are theoretically supposed to be better prepared to handle potential solar storms, it's difficult to test how well they'll actually work. A solar flare like the one currently going on is the only real way to see whether the energy grids are prepared.
"With solar activity being relatively low over the last 10 years, I guess we'll see," said Gohn.