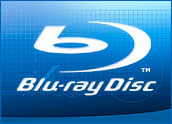 Sony Pictures Home Entertainment on Tuesday will ship a 50 GB Blu-ray disc, making it the first company to release a film using a high-definition format that can store twice as much data as traditional, standard definition media.
Sony Pictures will release the hit comedy motion picture "Click" on Tuesday. Action-drama "Black Hawk Down" will be available in November, with "The Ballad of Ricky Bobby" hitting store shelves on December 12.
Bonus Discs
The new 50 GB discs offer expanded capacity and special features, such as high-definition picture quality and superior sound.
"Click" will be the first Sony Pictures Blu-ray title to include all bonus features from the DVD release in high definition, including audio commentary with "Click" star Adam Sandler, deleted scenes and seven featurettes. Other special features include extended scenes, interviews, gag reels and theatrical trailers.
Sony plans to release two Blu-ray recorders. The BDZ-V9 offers a 500 GB drive and the BDZ-V7 features a 250 GB drive. The recorders will be available in Japan in December. Panasonic has slated the release of its Blu-ray recorders a month earlier there.
Sony Leading
Sony initially planned to launch a 50 GB Blu-ray disc in the spring, but unexplained delays stymied mass production of the mega-discs. Toshiba, which is championing the competing HD DVD format, had its own production problems earlier in the year, but with the holiday shopping season fast approaching, both camps are working quickly to prepare high-definition movie discs.
With its first-to-market status and its recorders soon to hit shelves, Sony is exuding confidence about its position in the high-definition format war. Most of Hollywood supports the Blu-ray format. Sony also has Matsushita on its side in a battle against Toshiba's HD DVD technology.
The high stakes keep getting higher. The media storage market is expected to grow from approximately US$33 billion worldwide in 2004 to $76.5 billion in 2009.
Toshiba Gaining?
Sony released the first batch of its 25 GB Blu-ray titles in June. The company plans to make about 100 films available on Blu-ray this year, while Toshiba, with support from Universal and Warner Bros., expects between 150 and 200 movie titles to be available in HD DVD in the U.S.
"The HD DVD discs have a 30 GB capacity," Chris Kissel, research analyst with In-Stat, told TechNewsWorld. "There is some talk that Toshiba is trying to develop a triple layer disc, where you would have two layers for HD and then a standard definition layer on top of that."
Until now, high-definition movies from both camps have come on discs with 30 GB of storage or less. The 50 GB discs will add director's cuts, enhanced music and other bonus features studios hope will help sell more new releases and offer consumers a reason to buy movies they already own in a new format.