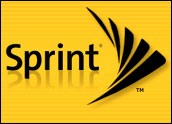 Sprint is launching a new type of mobile hotspot — the Sierra Wireless 4G LTE Tri-Fi Hotspot, the first device that will convert LTE, WiMAX and 3G networks into a WiFi signal.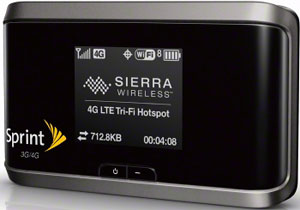 Sprint's Tri-Fi hotspot.
Via the portable device, users can access three networks — Sprint's CDMA 3G network, its WiMax 4G network and its upcoming LTE 4G network. The Tri-Fi, which is manufactured by Sierra Wireless, can last up to eight connected hours per day on its 3600mAh battery.
The device could appeal to families or small businesses, Sprint said, since it can work on as many as eight WiFi-enabled devices, including cameras, music players and portable game consoles. The Tri-Fi can also be used as a digital media server and allows file-sharing with network storage.
The Tri-Fi, given its name for the three networks it can access, will be available starting May 18 for US$99 with a two-year contract and after a $50 rebate. Data plans start at $34.99 per month for 3GB of data. For $79.99 per month, users get 12GB of data.
For a Certain Crowd
As smartphones, tablets and other portable devices become a bigger part of enterprise and personal use, the need for mobile WiFi hotspots is growing slowly but steadily, Bill Morelli, research director at IHS Research, told TechNewsWorld.
"There continues to be a big demand — in the U.S. at least, it varies a bit regionally — for mobile hotspots," he said. "A lot of this demand is being driven by the fact that so many carriers will not let users tether their phones. Also, the fact that so many more devices have WLAN instead of cellular makes a difference. Consumers would prefer to have one mobile hotpost for multiple devices rather than pay the cost increase and plan for each device."
However, Sprint's new device — and the monthly data plan tied to it — aren't targeted at the mainstream consumer, according to Colin Gibbs, an analyst at GigaOm Pro.
"The market for mobile hotspots is definitely growing, and I expect that to continue for at least the next several years," he told TechNewsWorld. "But they're still too pricey for many mainstream consumers. The Tri-Fi will appeal to high-end users who want to be constantly connected to the fastest available network, but most consumers will still be satisfied with using WiFi when and where they can."
The places where those consumers can use WiFi are also growing, John Feland, CEO and founder of Argus Insights, told TechNewsWorld. With restaurants, coffee shops and many public transportation carriers making WiFi a part of their offerings, the Tri-Fi is catering to a certain crowd, he said.
"Enterprise users, real estate agents and the occasional professional 'World of Warcraft' player have needs for access that transcend the Free-Fi phenomenon," he told TechNewsWorld. "The ability to leverage whatever the best local network technology [is] without having your packets sniffed by the local packet of feral devices will be appealing to a small and potentially growing part of the market."
Sprint's Catch-Up Game
If Sprint's Tri-Fi does catch on to a growing group in the market, it could give the wireless carrier a bump in the LTE game. The company promised to roll out its LTE network in six markets nationwide by the middle of this year, and by the end of 2013 it hopes to have LTE in most places where its 3G network is currently available. In that area, it's lagging behind its main competitors, so any device that gets some consumers dependent on Sprint's networks could be a much-needed boost, said Gibbs.
"Given the head start Verizon Wireless and AT&T are enjoying with LTE, Sprint will need to offer some compelling devices to help close the gap," he said.
Especially for certain consumers, such as business travelers working remotely on tablets or mobile devices, the chance to access a high-speed network anywhere could be a significant advantage for Sprint, said Feland.
"With the rapid consumerization of enterprise mobile, where every day is bring-your-own-phone-to-work day, you have a situation where Sprint can successfully engage existing AT&T or Verizon customers with a Tri-Fi if stories of location and network flexibility are to be believed," he said.
If Sprint can't pull customers from competitors, though, users who really want the Tri-Fi should get it now, said Morelli, because this is a Sprint device that the company isn't looking to keep around.
"The minute that Sprint has broad enough coverage with LTE they will stop selling it," said Morelli. "The additional cost is more than they want to support in the long term."