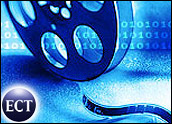 Cable movie channel Starz today announced a video download application and service for broadband.
Dubbed Vongo, the service delivers movies and other video content over the Internet for playback on Windows-based PCs, laptops and select portable media devices, as well as TVs.
Vongo will drive a new era in portable video delivered over the Internet, predicts Robert B. Clasen, president and CEO of Starz Entertainment Group (SEG).
"By combining the wide array of programming choices on Vongo with a host of new portable media devices being announced this week at the Consumer Electronics Show, consumers will be able to seize control of their video and watch whatever, wherever and whenever they want," Clasen said.
Unlimited Access
Vongo subscribers will have access to more than 1,000 movies and video selections, as well as a live, streaming Starz TV channel, for a monthly cost of US$9.99.
They can download movie and video selections to three eligible devices of their choice per account. Additionally, they can select popular pay-per-view titles for $3.99 per movie.
As one of the largest content aggregators in Hollywood, Starz has access to thousands of theatrical films, including first-run hits, such as "Hitch," "The Aviator," "The Incredibles," "National Treasure," "Kill Bill Vol. 2" and "Finding Neverland."
Starz classics include "Pulp Fiction," "Boyz N' The Hood," "Night of the Living Dead," "Good Will Hunting," "Hoosiers," "Dances With Wolves," and "Annie Hall."
Full-Length Content
Additional programming available to Vongo subscribers includes full-length music concerts. At launch, SEG said Vongo will offer a live, East Coast feed of the Starz TV channel in its "Watch Live Now" category, with an eye toward adding other television-based content, including series, in the future.
Movies, sports and news are the main drivers for Internet content, noted Bob Greene, senior vice president of advanced services for SEG. So far, sports and news organizations have found opportunities to distribute content via the Internet, he said, but due to the Hollywood rights issues, subscription movie content has been slower to reach the market — until now.
"An important strategy in the development of Vongo is to engage in a number of strategic alliances with technology, media and device companies in order to extend the reach of Vongo as far as possible," Greene said.
A Word About Piracy
SEG shares its partners' concerns about piracy over the Internet, which is why the company built a robust digital rights management system into the program, Clasen said.
"By providing a convenient, affordable and legal way to access the best of Hollywood, we will ensure that consumers will be much less likely to try to engage in video piracy," he commented.
A Little Help From Big Friends
Starz also announced the first in a series of planned agreements that will extend Vongo's reach. Initial partners include Sony Connect and Microsoft.
Sony Connect will make Vongo a cornerstone of its new Connect Video service that will launch later this year. Starz is using Windows Media technologies to power the Vongo service.
"The combination of Vongo's programming and Microsoft's digital rights management system and media player software has produced the catalyst for this new era of personal video," said John Pollard, senior director in the Mobile & Embedded Devices Division at Microsoft.
Where's Real in the Mix?
Starz Encore already has a deal in place with Real Networks to push its standard cable content over the Internet — for US$12.99 a month. The Vongo service undercuts SEG's current deal with Real.
However, Real is not generating tremendous profits on the service, according to Phil Leigh, senior analyst at Inside Digital Media. He would be surprised if Real were bringing in $5 million a year, Leigh told TechNewsWorld.
"This new service is a potentially broader offering at a lower price, and it has Microsoft behind it," he said, "but even those three things are not enough to really make a radical difference. Real has been at this two years, and they haven't made a lot of progress. I don't think we are going to see revenues of $100 million a year on this service [in the short term]."