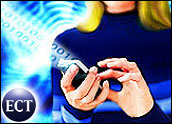 If another sequel to "Mission Impossible" makes its way to the big screen, Tom Cruise may receive his assignment via a text message. That's because a new text messaging service promises the digital communication will self-destruct in 40 seconds.
Staellium UK is playing off the 1960s television hit — and the current blockbuster movie series — to peddle StealthText, a self-destructing text message service marketed to those who want ultimate privacy.
Building a Business on Self-Destruction
Carole Barnum, CEO and Co-founder of Staellium UK, said that because the technology behind StealthText is derived from military technology the comparisons with "Mission Impossible" are justified.
"The ability to send a self-destruct message has massive benefits for people from all walks of life, from everyday mobile users through to celebrities and business people, but this is just the start," Barnum said. The company reports it has received interest from financial services firms, MOD (Ministry of Defense) and celebrity agents.
"In spring 2006 we will be launching new services, such as self-destruct e-mail, voice and picture messages, so ultimately no one will ever have to worry about their messages or pictures ending up in the wrong hands ever again," Barnum said.
Service for the Paranoid?
Staellium execs figure whether you're a celebrity who's up to no good or a business executive dealing in sensitive information, the last thing you want is for private text messages you've sent to fall into the wrong hands.
The company said StealthText allows users to send a text message safely in the knowledge that it will delete itself from the recipient's mobile phone as soon as the person has read it, allowing the sender control of his or her own information.
Maurene Caplan Grey, founder and principal analyst Grey Consulting, told TechNewsWorld that she does not see the purpose of StealthText and does not believe it will catch on.
"If I am sending you information then I am sending you information that I want you to have," Grey said. "If you are a paranoid person, I guess the service could help you — but paranoia is not what drives business."
Sending Destructible Messages
Here's how it works: Mobile users that want to subscribe to the service text STEALTH to 80880 to receive a link that will allow them to download the StealthText applet via a WAP connection. Users key in a code before they send the StealthText message.
Once a message has been sent, the recipient receives a text notification showing the sender's name and providing a link to the message. Once the message is opened, it will disappear after a short period of time (about 40 seconds). To unsubscribe, users can text STOP to 80880.
To comply with legal requirements, when the message is deleted from the recipient's phone, the "paper trail" and log stays on a protected, secure server for a period of time before being completely deleted, the company said. To prevent abuse, the recipient has no access to the server.
Is Big Brother Watching?
Grey ultimately has two problems with StealthText. The first, she said, is inconvenience on the part of the recipient who needs to regain access to the data. The second is more problematic from a legal standpoint.
The StealthText Web site says, "If Governments feel our communications are important enough to control, then perhaps it is time we should feel the same way." Grey said that could potentially lead to what is called spoliation.
"Let's pretend I send you information that could be incriminating against me and then it disappears," Grey said. "If there is any type of proceeding that makes that information pertinent and that information was purposely destroyed, that's illegal. That's spoliation. You can't do that. This could do more harm than good."