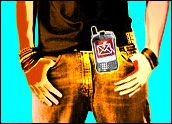 A new study released this week by Boston-based Strategy Analytics offers an ominous warning — companies focused on supplying light-emitting diodes (LEDs) for liquid crystal displays (LCD) and keypad backlighting functions will see their revenues plummet an astounding 41 percent in the next three years.
Diversification is needed, right now, for companies in that business to survive, the study said.
A copy of the findings of the study on the LED market, "Camera Phones are Bright Spot in Handset Market for LEDs," was provided to TechNewsWorld.
More Efficient Backlighting
Research demonstrates that the introduction of brighter LEDs and "more efficient backlighting" technologies will spur a "net reduction" in the average number of LEDs used in both the LCD and keypad backlighting segments of the industry.
Combined with the decline in average selling prices experienced in these two markets, revenues from both markets will trend downwards, the study said.
This loss however, may be offset by strong revenue growth in the emerging camera flash market. By 2009, revenues from the growing camera flash function will represent 36 percent of the total handset LED market demand for LED manufacturers, the study said.
"Growing penetration of cameras into mobile phone handsets is coupled with the appearance of higher resolution cameras and a consumer requirement that camera phones should be able to take good quality photographs," said Stuart Robinson, director of Strategy Analytics handset component technologies (HCT) service. "An essential part of this requirement is a high-quality flash function that can operate over distances of more than 1 meter. This will drive demand for camera handset high-power white LEDs."
Accordingly, market leaders or aspirants will need to realign themselves now to meet ongoing changes in market requirements, said Asif Anwar, director of the Strategy Analytics GaAs service. "The requirements of high illuminance, high efficacy and appropriate thermal management for LEDs used in camera flash functionality present considerable challenges, but the upside is a market which will grow at a CAAGR of 87 percent through to 2009," said Anwar in an e-mail to TechNewsWorld.
Importance of Innovation
The LCD business is a very innovative one — which is constantly introducing new products and technologies. Milpitas, Calif.-based California Micro Devices this week announced the CM4072, a single-chip low noise charge pump/linear regulator LED (light emitting diode) driver designed to power white LEDs to backlight TFT LCD displays in wireless handsets, PDAs and LCD modules, the company said.
By integrating the charge pump and linear regulator into one chip, the CM4072 is able to boost the input voltage via the charge pump circuitry and then feed it to the linear regulator to provide a constant 5V output and a continuous output current of 200mA. To control the brightness of the white LEDs, a PWM (pulse width modulation) signal is sent from the baseband processor to the enable pin of the CM4072. The charge pump operates at 250kHzn which is well below the clock, cellular and PCS frequencies in wirelesshandsets, the company said.
Other makers of LEDs have been diversifying for a while, expecting the downturn, apparently. Agilent Technologies' HSMx-A43xx series high-brightness red, red-orange, orange, amber, green and blue LEDs have been adapted for automotive lighting, outdoor electronic signs and signals and other applications requiring highly reliable light sources.
Strategic Position
The new LEDs complement Agilent's earlier model Power PLCC-4 LEDs, with 120-degree, ultra-wide viewing angles. The 30-degree viewing angle reportedly allows Agilent's SMT LEDs to meet design requirements for interior automotive applications, such as door lighting and instrument clusters, as well as exterior automotive applications, such as turn signal lamps, brake lights and side markers. These LEDs also suit applications in the electronic signs and signals field, such as traffic lights, marker lights and signboards, the company said.
Another company in the LED field that is earning diversification kudos is Philips North America.
"Elements of the company's successful product line strategy include the introduction of new products strategically positioned to balance the product line and the ability to accommodate different market segments," says Frost & Sullivan research analyst Stephen Spivey, based in Palo Alto, Calif.