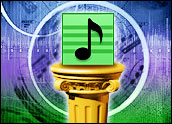 After more than doubling last year, portable digital music player sales are set for 57 percent growth in 2005, according to results of a global survey released today. Market research group iSuppli said shipments of MP3 music players rose by 116 percent in 2004 and will expand to 132 million units in 2009 from 36.8 million in 2004.
Inside Digital Media senior analyst Phil Leigh told TechNewsWorld that a transition of music sales from physical to digital form is driving the growth.
"The growth reflects the rising tide of recorded music going to Internet distribution," Leigh said. "The Internet provides a superior way to distribute music and that requires a transition from analog electronics to digital electronics."
More Memory
Flash memory chips are common in digital music players today, but the iSuppli study indicates a move toward built-in hard disk drives (HDDs) that will yield players with higher storage capacity.
Sales of HDD-based players will increase from 9.8 million last year to 56.2 million in 2009, with HDD players making up 43 percent of the total MP3 market as compared to 27 percent in 2004.
"We are in the early stages of a land rush," Leigh said. "Everyone's looking at some way to get an edge over the next guy. Some of these competitors are going to be inconsequential in the long run."
The Apple Advantage
Analysts expect Apple to be consequential for years to come, even with Sony's new lineup of Walkmans on the market. Initially Apple's iPod was quite expensive, but the company reduced prices when the competition arrived.
Apple has also aggressively introduced many generations of products in quick succession over the past four years. But iSuppli warned MP3 makers not to try to squeeze too many features into their products.
"The so-called 'Swiss Army Knife' approach has not succeeded in the MP3 market," study authors said. "Simple, elegant products that perform a few functions with easy-to-use interfaces have sold well in the marketplace, while the do-everything approach has failed."
Simple Is Selling
Leigh said simple is selling. Consumers quickly become frustrated with computer glitches and want easy-to-use digital equipment. Leigh said this ease of use is Apple's strongest point.
"The iPod simply works. It's not altogether hassle-free, but it simply works much more reliably than the others do because it uses Apple hardware and Apple software," Leigh said. "Apple has minimized the glitches whereas its competitors have not yet done that."