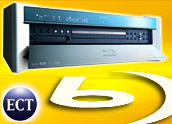 The Blu-ray Disc Association is trumpeting a survey it commissioned to demonstrate its lead in the DVD standards war. The poll suggests that as the battle between Blu-ray Disc and HD DVD heats up, consumers prefer Blu-ray as their format of choice.
Penn, Schoen and Berland Associates conducted the poll in which consumers were given a side-by-side comparison of the two formats. Poll results show 58 percent of the 1,200 consumers surveyed preferred Blu-ray Disc, 26 percent were undecided and 16 percent preferred HD DVD. Of those consumers who indicated that they are extremely interested in purchasing the next-generation format, 66 percent favored Blu-ray, 19 percent wereundecided and 15 percent preferred HD DVD.
"While we are still in the pre-launch phase for both formats, Blu-ray Disc is the early front-runner," said Mark Penn, whose firm conducted the poll. "Consumers perceive Blu-ray as the favorite on technology company support, gaming, storage, and disc versatility."
Consumer Attitudes
The poll also examined consumer attitudes toward high-definition television and next-generation disc formats. Among the key reasons consumers preferred Blu-ray were the ability to play the discs in more devices, personal computers and gaming consoles, backward compatibility with current DVD media, disc capacity and the ability to record large amounts of high-definition or standard definition video and data.
"From day one, we've focused on delivering the best possible consumer experience while building support from the best brands in the world," said Maureen Weber, chief BDA spokesperson and general manager of the Optical Storage Solutions Business at HP. "The result is a format that delivers a consistent, compatible consumer experience across a range of platforms, which is clearly something that resonates with consumers."
Slowing the Market Pace
BDA said a selection of Blu-ray players, recorders and computer drives are expected from Sony, Hitachi, Sharp, Panasonic, LG Electronics, Pioneer, Philips, Mitsubishi and Samsung as well as PC hardware from Dell and HP. Gaming hardware will be available from Sony with the release of PlayStation 3, and software will be available to the leading gaming software manufacturers. Toshiba, on the other hand, supports HD DVD, a newertechnology.
Jupiter Research analyst Michael Gartenberg told TechNewsWorld that battles over standards ultimately slow down the market because mainstream customers tend to hold off on investing in a particular technology standard until they are convinced that a prevailing combatant has emerged.
"Consumers have watched these format wars over the years and have learned to wait it out, knowing that two things will invariably happen: a standard will be set and prices will fall," Gartenberg said. "The longer it takes to get a standard in place, the more difficult it will be for any standard to pick up traction going forward."
Analysts said in the long-run, the format with the most available content and the most units on the market will gain economies of scale and win the lion's share of consumers. Until then, Gartenberg said both sides will continue to make technical claims based on the supposed superiority of their format and the ease of transition.