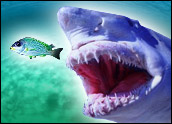 Symantec yesterday announced that it has signed an agreement to acquire endpoint compliance solutions provider Sygate Technologies.
Endpoint compliance solutions help enterprise organizations enforce security by guaranteeing that all devices connected to a network — desktops, laptops, servers, and mobile devices — are running the appropriate security solutions, are configured correctly, and possess up-to-date patches.
Symantec said Sygate's technology will complement its presence on the endpoint to create a holistic solution to address the security, compliance, and remediation requirements of today's large enterprises. The acquisition is expected to close shortly after receiving customary regulatory approvals.
"It is critical to have an endpoint compliance solution that will allow companies to leverage their existing IT infrastructure to control the myriad devices connecting to the network," said Enrique Salem, senior vice president, Security Products and Solutions at Symantec.
Solidifying Market Position
Symantec said the Sygate acquisition will allow the company to help businesses enforce business policies and automate security practices to regain control of network security, reduce costs and ensure compliance across the organization.
Jonathan Spira, CEO and Chief Analyst for Basex, a research and consulting firm, told TechNewsWorld that the Sygate acquisition will solidify Symantec's position as a leader in corporate security.
"The issue of securing endpoints of a corporate network is a challenge because the only way to completely secure an endpoint is to lock down the machine, and most companies find that too extreme," Spira said.
"Sygate makes tools that control access rights to corporate networks. Installed on a laptop, Sygate's tools with ensure that viruses and other malware don't infect the network. Think of it as immigration control."
Integrated Security Solution
Chris Christiansen, vice president of security products and services at IDC, said securing companies are looking for integrated offerings that can both protect the network and ensure that endpoints are compliant with security policies.
"This acquisition will give customers a complete endpoint compliance solution while helping to reduce complexity and cost," Christiansen said.
Upon close of the deal, Symantec AntiVirus and Symantec Client Security customers will be able to license and deploy Sygate's Network Access Control agent to provide endpoint compliance on top of the protection they already receive.
Symantec will integrate its remediation capabilities like LiveUpdate and LiveState Patch Manager and its data availability solutions into a more robust endpoint compliance solution.
Protection from Unmanaged Devices
Symantec is also picking up some other capabilities in the Sygate deal. Sygate On-Demand Agent provides an agent that can be downloaded via SSL and portal connections.
This agent ensures that endpoints that are not company-owned or managed are in compliance with corporate security policies and that the transaction data itself is secure.
And the recently announced Sygate Enterprise Solution (SEP) 5.0 provides protection and control in a single agent and under simplified management.
Symantec said it expects to leverage and integrate these technologies with its existing endpoint protection products. Until that integration occurs, SEP 5.0 will be offered alongside Symantec's other endpoint security solutions.