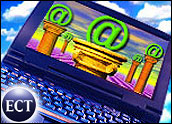 The past two years have seen several high-profile corporate scandals that illustrate the dramatic consequences of e-mail misuse — and those are just the ones that have made headlines.
In fact, one in five employers has had an e-mail subpoenaed by courts and regulators, and another 13 percent have battled workplace lawsuits triggered by employee e-mail, according to the American Management Association's ePolicy Institute 2004 Workplace E-Mail & IM Survey.
"Concern over litigation and the role electronic evidence plays in lawsuits and regulatory investigations has spurred more employers to implement electronic technology policies," says Nancy Flynn, executive director of The ePolicy Institute.
"Workers' e-mail, IM, blog and Internet content create written business records that are the electronic equivalent of DNA evidence."
In light of these figures, it comes as little surprise that the e-mail archiving market is expected to grow at a 57 percent compound rate through 2007, according to IDC.
With the market set to explode, what are the trends and technologies that companies are looking for in e-mail archiving solutions? Symantec has gone straight to the source and asked its own customers about their expectations, their wants and needs for the next few years. Others have plenty of opinions, too.
Contemplating Compliance Issues
"E-mail archiving as an industry is growing rapidly and it is interesting to examine the underlying trends driving the growth," Nick Mehta, senior director of product development for Symantec, told TechNewsWorld.
"We are seeing a broader set of customers looking at implementing e-mail archiving solutions. The initial adoption of e-mail archiving is primarily focused on financial services companies with compliance issues."
Mehta said Symantec is seeing a growing demand to address the huge and increasing e-mail volume administrators are dealing with and the fact that users are not willing or able to accept artificial restrictions, like e-mail quotas.
Symantec customers are also looking at e-mail archiving to prepare for legal discovery and to reduce the cost and risk of traditional methods of legal discovery, like restoring e-mail from backup tapes or imaging laptops and desktops to capture PST files.
"In both of these areas, nearly any company with sizable e-mail volumes and/or possible litigation, which would be nearly any mid- to large-sized company, has a potential need for e-mail archiving," Mehta said.
Starting Policy Programs
James Geis, Forsythe Technology's director of storage solutions, told TechNewsWorld that e-mail archiving trends are centered around how to start with policy programs and the decision points that must be turned into policy. That includes issues like acceptable use, long-term retention and how to monitor and audit e-mail usage.
"Many organizations are looking for a single-view or single tool that allows them to manage all types of enterprise content, not just e-mail," Geis said. "But, with e-mail archiving tools so available and easy to integrate, it's the first step towards having an overall enterprise content management system."
With regard to storage, Geis said companies want to make technology decisions based on what is going to last for the long haul. It is not just a simple matter of technology, he said, but how it will fit into the company's operational model, which includes policies for backup, restoring, disaster recovery, business continuity, security, flexibility and scalability.
All About Automation
Eric Linxweiler, vice president of consulting at Logicalis, told TechNewsWorld that automation is a key trend because it's essential for businesses to have a system that keeps the user experience consistent, while meeting all the requirements for archiving without costly migrations or limiting functionality.
"Archiving is a new concept, and its growth has been fueled by new technologies that assist IT users in implementing this valuable strategy," Linxweiler said.
Linxweiler points to EMC's Centera as an example of a groundbreaking technology that enables corporate IT to archive their critical data without much risk or effort.
"Expect more application and technology vendors to follow suit, and as they do customers will have increasingly flexible options across their entire technology environment," Linxweiler said.
Rethinking Risk Assessment
On the fronts of compliance, security and other key areas that companies are currently spending resources on, risk assessment is something to look for, according to experts.
That's because laws have been written and regulations set that haven't been fully tested in the courts. Linxweiler said firms are gauging their ability to comply balanced with the hard and soft costs of doing so.
"Companies are looking at all of their corporate data and systems based on what risks the use of that for internal communications exposes themselves to," Linxweiler said. "We've seen the effect of e-mail, and many companies are taking steps to control its use and provide for its long-term archiving."
Linxweiler said to expect other tools, such as Instant Messaging and IPT voicemail, to also be considered alongside e-mail as something companies need to weigh in their compliance decisions.
Geis predicted that companies and client information going in or out of corporate firewalls is an area that will see more attention.
"Many companies want e-mail archiving tools to limit their exposure and cut down on the ambiguity of having end-users make decisions about what can be sent or received," he said.
"Also, companies want the ability to track and institute as much automation as possible within these tools, in order to free up expensive resources — both human and computing — to focus on business."
Looking to Future Needs Today
Going forward, Symantec's customers pointed out several needs. One of those is broadening the archiving strategy from e-mail archiving as a point product to a comprehensive archiving solution for digital communications — from file sharing to instant messages to digital faxes to the digital voicemail to which Geis alluded.
"Customers are looking at increasing the intelligence of archiving — moving from simply saving everything forever to truly classifying information as it is archived, filtering out irrelevant information and selectively retaining data based upon business policies and records management needs," Mehta said.
Customers are also looking to push scalability as the critical differentiator in archiving. Mehta said Symantec has customers archiving more than 5 million messages a day, with archives approaching a billion messages — and this will only increase.
Data Mining Motives
"Customers are looking to leverage the archive not only for litigation and compliance but to actually mine knowledge out of the archive — moving information from a liability to an asset," Mehta said.
"They are also expanding their view to e-mail infrastructure as a whole — encompassing a full view of e-mail from archiving to security to availability."
That all-encompassing view, said analysts, will drive sales of e-mail archiving solutions and, hopefully, reduce the number of companies landing in court in the next AMA survey.