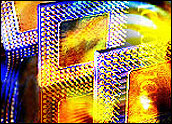 Toshiba and Elpida Memory both announced today high-performance DRAM (dynamic random access memory) chips they say achieve the fastest data transfer rate yet attained by any memory device.
The second generation 512-megabit XDR (extreme data rate) DRAMs each have a peak operating speed of 3.2 Ghz, which provides a data transfer rate of 6.4 GB per second.
The chips are designed for high-performance broadband applications, including digital consumer electronics, network systems and graphic systems.
Heated Competiton
Samples are currently available from both companies, which are racing each other to market. Volume production is expected to begin in the second half of this year.
The XDR DRAM is based on Rambus' XDR memory interface technology, unveiled in 2003 as Yellowstone. It offers an octal data rate (ODR), supporting transfers of eight data in a single clock cycle.
Analysts said next-generation broadband applications require real-time processing of huge volumes of data, which can only be achieved with the support of large capacity, ultra high-speed memory chips.
Need for Speed
Brian Matus, vice president of market research for IC Insights, told TechNewsWorld that speed is one issue. The ability to break down the size of the memory chunk you are getting from the DRAM is another. This latest technology offers both speed and memory breakdown.
"You can break down the memory into smaller pieces and you can stream that information faster from the memory into the microprocessor and then into a graphics presentation on the screen," Matus said. "That not only improves resolution, it allows allows the resolution to be processed a lot more quickly than we've seen to this point."
Toshiba and Elpida may be first, but Matus said he expects competitors like Samsung and Infineon to follow suit.