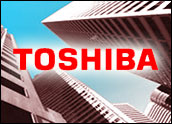 Toshiba on Monday announced a 2.5-inch hard disk drive (HDD) that uses perpendicular magnetic recording (PMR) technology to boost the industry's largest 200 GB capacity with only two platters.
Perpendicular recording technology is capable of delivering up to 10 times the storage density of traditional longitudinal recording — on the same media. Like longitudinal recording, perpendicular drives depend on magnetically charged particles to store data. The difference with perpendicular drives is that the particles are arranged perpendicular to the disk instead of parallel to it.
"The conventional recording technology, longitudinal, is reaching the end of its life. Perpendicular recording is required to extend storage beyond 2.5-inch 80 gigabytes per disk, which is the highest volume market right now in terms of growth," TrendFocus analyst John Donovan told TechNewsWorld.
Larger Data Capacity
The new HDD, MK2035GSS, features the highest areal density yet achieved, with 277.1 megabits per square millimeter (178.8 gigabits per square inch). Toshiba plans to start mass production of the drive in August 2006.
"Larger data capacity in a small form factor HDD is essential for continued advances in the notebook PC market and in personal audio and video applications," said Kazuyoshi Yamamori, vice president of the storage device division at Toshiba's Digital Media Network Company. Yamamori vowed to continue to take technology advances to further generations.
Small Form Factor HDDs
The new 2.5-inch 200 GB drive boosts data capacity to 1.67 times that of Toshiba's highest capacity conventional 2.5-inch drive. The new drive is 9.5 millimeters thick.
Small form factor HDDs are now used in diverse applications, from mobile PCs to digital audio players. Toshiba is betting on the market's voracious appetite for larger data capacities, as more powerful networks and applications bring audio-visual capabilities to more and more mobile products, particularly AV notebook PCs.
By applying perpendicular magnetic recording technology to 2.5-inch HDDs, Toshiba said it brings increased data capacity to the industry's mainstream drive, a move it believes will also sustain the industry trend to thinner, lighter notebook PCs, particularly high-end models offering high storage capacity.
Marketplace Competition
Toshiba led the storage device industry with the introduction of a 1.8-inch perpendicular magnetic recording HDD in May 2005. The company does have competition, though.
Hitachi is readying its 2.5-inch 160-gigabyte Travelstar hard drive 5K160 designed for notebook and mobile computing this summer at a price tag of US$269. Hitachi plans to implement the technology across its product lines, including its 1.8-inch hard drive slated for delivery in the latter half of 2006. Other major drive manufacturers plan to include the technology as well. In fact, most hard drives will feature PMR within the next few years.
"The main players are Seagate, Hitachi and Toshiba today. By the end of the year, you will see all the hard drive players making perpendicular announcements," Donovan predicted. "That's where the market is heading. There is no avoiding it if you want to be a player in the storage market."
Maintaining the Lead
For its part, Toshiba said it will continue to enhance its HDD business by introducing differentiated drives in small form factors, and take implementation of perpendicular magnetic recording technology all the way through to its industry-leading 0.85-inch drives.
"Toshiba is leading the market," Donovan said. "It demonstrates that there is more than one way to be successful in the drive market. You can do everything in house, like Hitachi, or you can outsource things, like Toshiba has done. There is not just one recipe for success."