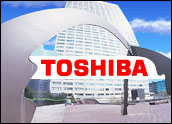 In a breakthrough that paves the way for higher capacity notebook computers and digital music players, Toshiba announced Tuesday that its storage device division broke the 100 GB barrier for mobile hard disk drives (HDD).
A new 1.8-inch drive — model MK1011GAH — is based on perpendicular magnetic recording (PMR), a technology for data recording on hard disks that reportedly can deliver up to 10 times the storage density of longitudinal recording on the same media.
The drive's footprint is 10 percent smaller than first-generation 1.8-inch drives, and is specially designed for thin and light mobile computers with an 8 MB cache that supports the storage of multiple data sources, such as video and movies. The format enables mobile PC manufacturers to easily transition to higher capacities in smaller footprint HDDs, according to the company.
"PMR is clearly helping [Toshiba] define the possibilities for pushing capacity limits in the mobile sector, with more than 2 million mobile PMR HDDs shipped and over a year in commercialization," said Scott Maccabe, vice president and general manager, Toshiba storage device division.
Smaller, Denser, Cheaper
Toshiba developed its first 1.8-inch drive, a 2 GB model, in 2000. It was the highest-capacity drive at the time and sold for US$740. Since then, drive capacity has risen across the board and the prices have dropped. For example, the Apple iPod's 80 GB model with a color screen costs $350.
Toshiba plans to start mass producing the MK1011GAH drives in Jan. 2007 for OEMs to bundle in their products.
The drive will be on display at the Consumer Electronics Show in Las Vegas from Jan. 8 to 11, 2007, but the drives will not be sold directly to consumers.
Leader of the Pack
"When it comes to the 1.8-inch form factor, there's no doubt that Toshiba leads the pack and this is simply another milestone," Dave Reinsel, director of storage research for IDC, told TechNewsWorld. "This one is specifically focused on trying to move into a niche ultra portable PC market and should fill that market nicely."
Toshiba maintained its global market share leadership for all HDDs shipped to consumer electronics devices in the third quarter of 2006 and remained at the top of overall mobile HDD shipments for the fifth consecutive quarter, according to the most recent storage industry report from IDC.
Hard disk drive shipments to consumer electronics markets displayed a 42 percent year-over-year growth for the third quarter of 2006. IDC reported that Toshiba's Q3 global market share was 33 percent of all form factor HDDs shipped to consumer electronics products, including digital audio players, portable media devices and notebook PCs.