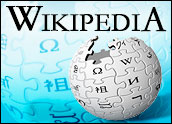 The creators of Wikipedia are launching a new travel site, Wikivoyage, aimed at providing worldwide travelers with free, up-to-date information about attractions, lodging, restaurants, nightlife and other essential on-the-go information.
The Wikimedia Foundation's online travel initiative, which is officially launching Tuesday, reportedly has been in the works since late September. It already has a page of Goals and Non-Goals for the site that highlight how travelers around the world can turn to Wikivoyage for current, crowdsourced information about planning a trip.
Wikivoyage is designed to be an online guide for all kinds of travelers, including those "huddled in a late-night Internet cafe in some dark jungle" who need the latest information about a place to stay or eat, or people in a new city that want to print out an article as a guide through a local museum.
The Wikimedia Foundation, which will host and support Wikivoyage, also said the information could be used in other travel guidebooks that are looking for the latest travel hotspots.
Non-Profit and Informational
What Wikivoyage won't be is a place for pushy travel ads, according to the non-goal section of the site. While encouraging restaurants, hotels, travel services and other local businesses to keep their Wikivoyage information up-to-date, the company warned users against blatant advertising or competing against rivals within the site.
Wikipedia founder Jimmy Wales echoed that sentiment on a recent appearance on the Colbert Report, where he teased the site. When asked by the host if the company planned on straying from Wikipedia's non-profit model to pursue a more commercial travel initiative, Wales said that wasn't the plan.
Wikivoyage also isn't looking for individual travelers to go in-depth about their personal experiences in any destination. There are other travel sites users can visit in order to create travel essays, photo galleries of their trips, an open chat forum or personal journals, the site said.
The Wikimedia Foundation did not respond to our request to comment for this story.
Taking on Wiki Travel
Wikivoyage is launching despite being at the heart of a dropped lawsuit involving the existing commercial site, Wikitravel, which is operated by Internet Brands. When the Wikimedia Foundation decided to go ahead with a travel site, Internet Brands sued two Wikimedia project users for infringing on their trademarks.
A judge eventually dismissed Internet Brands' suit, but Wikitravel remains a popular online hub for crowd-sourced travel information. With Wikitravel's head-start in the space, it could be difficult for Wikivoyage to gain its own footing, at least in the short term, said Mike Dover, managing partner at Socialstruct Advisory Group.
"With a lot of travel sites it takes two years for them to get any good," he told the E-Commerce Times.
In addition to the Wiki competition, Wikivoyage is also going up against established competitors in the online travel space, Dover noted. While the idea of crowdsourced information for common knowledge was a pretty novel idea when Wikipedia launched, the travel industry already has years of online reviews, sample itineraries and personal testimonies about tons of destinations.
What's more, said Dover, when many travelers check those out, they're not necessarily looking for the advertising-free information or content that doesn't include personalized stories. The savvy travel planner can aggregate reviews and ads to put together a trip that's just right for them.
"A lot of travelers now use a combination of Wikitravel or other sites and something like Trip Advisor, where they can really look at all kinds of reviews and see what would fit them best," he pointed out. "I'm not sure what Wikivoyage could add that Wikitravel and a lot of other sites can't."
Even if they can't add in content, though, the site has a clear and visible platform, which is more than most new sites can say, Andrew Shotland, independent SEO and Web strategy consultant, pointed out. The site might not be the new one-stop travel shop, but with Wikipedia helping to drive traffic to Wikivoyage, it has a good chance of reaching plenty of eyeballs, he said.
"Competing with established players like TripAdvisor will be tricky, because those sites are so focused on the niche," he told TechNewsWorld. "But I don't see this as a battle Wikivoyage would have to win completely. There is plenty of room to crowd out the tier-two and tier-three competitors from search. Google has shown a clear bias towards the site. I don't see why that wouldn't flow down to a new Wikimedia brand."