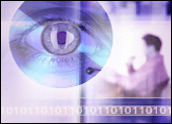 Trend Micro is picking up on one of the latest security trends with its new home office solution — spyware protection.
PC-cillin Internet Security 2006 is designed to combat unpredictable malicious threats like phishing, spyware, spam, hackers, viruses, and other threats. The company said its solution provides enhanced antivirus, anti-spyware, and anti-spam protection to provide users with real-time defense against online fraud and identity theft.
According to a recent Trend Micro study, more than one-third of home computer users with antivirus protection believe they have been the victim of a malicious attack, such as spyware, virus or spam. The company said its findings validate the need for users to install more comprehensive multi-threat protection at home.
"Working, playing, or doing business online have each become a part of our everyday lives," said Lane Bess, general manager of Trend Micro Consumer Business Operations. "Unfortunately, security threats are evolving and becoming more unpredictable, creating significant challenges for computer users at home."
Keeping the Home Safe
Bess said Trend Micro PC-cillin Internet Security gives Internet users peace of mind that their systems, and their children's systems, are up-to-date and protected from harm.
Continuing on the child safety theme, Trend Micro said advanced home network protection, such as greater parental controls, personal firewall capabilities, wi-fi security against hackers, and centralized management provide parents with greater assurance that their home computing environment's security is up-to-date and their families are safe when they're online.
Protecting the Office
But beyond keeping the home safe, Basex CEO and Chief Analyst Jonathan Spira told TechNewsWorld that anti-spyware solutions like Trend Micro's can help keep the office safe.
"As more people work from different environments, including telework from home, the issue of home security becomes critical to avoid infecting the network, especially for smaller companies that don't have a large IT and security staff," Spira said.
Statistics from The Dieringer Research Group back up Spira's theory. Although the actual number of telecommuters is tough to pin down, the 2003 American Interactive Consumer Survey reported that there are currently 23.5 million employees telecommuting in the United States.
"Everyone is doing spyware, but it's putting all of the different pieces together to form a comprehensive solution that matters," Spira said. "Anything that integrates various tools is helpful to keeping out the bad guys."
The Anti-Spyware Bandwagon
The need to identify and eradicate spyware programs will drive anti-spyware software revenues from US$12 million in 203 to $305 million in 2008, according to IDC. With its latest release, Trend Micro is now on the anti-spyware bandwagon with competitor Symantec.
The Anti-Spyware Coalition, of which both Trend Micro, Symantec are a part, just last week decided on a definition for the unwanted and often dangerous spyware infesting computers, and has created a risk modeling document that outlines objective criteria for anti-spyware vendors.
AOL, Microsoft, McAfee, and more than a dozen other leading Internet brands and security vendors are also part of the Anti-Spyware Coalition with its mission to build a consensus about definitions and best practices in the debate surrounding spyware and other potentially unwanted technologies.
PC-cillin Internet Security 2006 is available immediately. North American pricing remains the same as last year, US$49.95 or $24.95 for an upgrade.