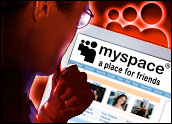 Universal Music Group (UMG) on Friday filed a lawsuit against MySpace.com, alleging that the Web site is building a business based on publishing stolen songs and music videos.
The suit, which was filed in U.S. District Court in Los Angeles, called MySpace a "vast virtual warehouse" of pirated copyrighted material that belongs to blockbuster artists such as Mariah Carey and U2. UMG also claimed in the filing that "no intellectual property is safe" from the alleged copyright infringement.
Unlike Universal's other recent lawsuits against smaller social networking sites such as Grouper Networks and Bolt, this filing places the music behemoth in a head-to-head confrontation with Rupert Murdoch and his News Corp., which also owns Fox Television. News Corp. bought MySpace for US$580 million in September 2005.
Seeking Damages
UMG is seeking damages of $150,000 for each unauthorized music video or song posted on MySpace, which could add up to millions of dollars. UMG's Vivendi unit claims that MySpace is aware of the infringement and profits from users posting illegal materials via MySpace's practice of selling advertising on its pages.
"Businesses that seek to trade off on our content and the hard work of our artists and songwriters shouldn't be free to do so without permission and without fairly compensating the content creators," Universal said in a statement. "Our music and videos play a key role in building the communities that have created hundreds of millions of dollars of value for the owners of MySpace."
MySpace executives could not immediately be reached for comment.
Is MySpace Safe?
MySpace should be protected if its company policy includes the take-down provisions required under the Digital Millennium Copyright Act (DCMA), claimed Nate A. Garhart, intellectual property attorney and partner with Coblentz, Patch, Duffy & Bass.
In an effort to protect Internet service providers, which would include MySpace, Congress explicitly exempted such ISPs from liability from infringement due to user postings if a method in in place to remove allegedly infringing materials from the ISP's site.
"The law is very specific about the procedure and the information to be provided. In the event that MySpace has posted the necessary information and followed the procedures called for under the DMCA, it should be immune to liability for the infringing postings of its users," Garhart told TechNewsWorld.
Tip of the Iceberg
Universal might be attempting to coerce some type of licensing agreement through the filing of this lawsuit, said Michael R. Graham, intellectual property attorney and partner with Marshall, Gerstein & Borun.
"I would have to believe — though I have no support for this — that MySpace is registered as an ISP under the DMCA, enabling it to avoid liability provided it takes down copyrighted materials when it receives notice of an infringement," Graham noted.
"If this is the case, the filing of this lawsuit may be short-lived," he continued. "At the same time, this is another 'tip of the iceberg' of the larger problem, which is dealing with the licensing of rights when it is so difficult to determine from whom licenses must be obtained, and the necessity for educating the public in the areas of copyright rights and wrongs."
Making Legitimate Moves
The lawsuit could become a test case for resolving the thorny issue of online copyright protection. Music labels may eventually drop lawsuits such as this and leverage the targeted Web sites as marketing tools for their wares.
As with the YouTube site, MySpace plans to offer copyright holders an online tool that would eliminate unauthorized content. The online social networking giant is testing a tool fromGracenote that would filter infringing content from its site; a test with Major League Baseball and the Fox Broadcasting Network has been announced. The tool would alert MySpace if copyrighted content is posted.
These activities indicate that mainstream social networking sites are attempting to balance the needs of users, advertisers and copyright holders. It remains to be seen if their efforts will turn away the very users who flock to them.