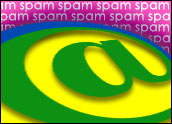 The United States is still wearing its notorious spam crown.
For the third year in a row, the world's super power is also the world's leading spam thoroughfare, according to Sophos' "Dirty Dozen" report on the top 12 spam-relaying countries during the second quarter of 2006.
Perhaps more troublesome is the news that the U.S. has failed to reduce its spam-relaying issues for the first time in more than two years.
Ron O'Brien, senior security analyst for Sophos, is disappointed that the U.S. has lost some of its momentum in the war against spam.
"U.S. spam has declined every quarter since the inception of CAN-SPAM until now," O'Brien noted. "Despite the increase in arrests and significant monetary penalties, it's clear that the United States has more work to do."
Spam by the Numbers
According to Sophos, the U.S. accounts for 23.2 percent of the world's spam. China ranked second with 20 percent and South Korea a distant third at 7.5 percent. However, unlike the U.S., China and South Korea have both managed to reduce their spam statistics.
Notably, Canada maintained its 2006 absence from the charts and Italy is a new entry at number eight with 3 percent.
While the United States accounts for the highest spam output as a country, together China, Hong Kong, South Korea, Japan and Taiwan account for almost half of the worldwide spam output, making Asia the top offending continent with 40.2 percent of all spam, Sophos noted in its report.
Europe surpassed third-place North America, rising to the second position among continents, with a marked rise from the first quarter of 2006 due to increased zombie activity.
Attack of the Zombies
South America ranked fourth with 5.5 percent while Australia and Africa tied for fifth with 0.7 percent each.
The vast majority of spam is relayed by "zombies," also known as botnet computers, which have been hijacked by Trojan horses, worms and viruses, according to Sophos. Once the hackers take control of infected computers, cyber criminals can use them to blast out spam messages.
"As Asia reigns supreme, zombie PCs plague the European market, and North America still ranks in the top three, worldwide regulatory and judicial efforts are needed to prevent spam in the borderless Internet society," said O'Brien.
Legislating Spam
John Mozena, cofounder of the Coalition Against Unsolicited E-mail, agreed with O'Brien's assessment. Although there have been a few high-profile prosecutions of spammers, the spammers' risk versus reward analysis weighs heavy on the reward side.
CAN-SPAM legislation has failed to make a fundamental difference because the law is not designed to get rid of spam, Mozena told TechNewsWorld. It's designed to promote truth in spamming. Significant progress, he added, will require legislation that makes spam illegal, but marketing industry lobbyists have worked to prevent such a law.
"The benefits of spamming are provable. Spammers make money spamming. Our judicial system needs to have tools that make spammers believe that something very bad is going to happen to them if they spam," Mozena told TechNewsWorld. "That will require new legislation and stronger enforcement."