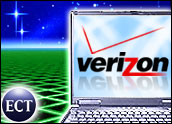 In another step to woo customers away from cable and satellite TV providers, Verizon Communications on Friday announced an agreement to carry PBS and the nation's local public television stations.
The deal will bring high-definition, educational and children's programming to Verizon's fiber-optic FiOS TV service subscribers. Verizon is trying to woo customers away from cable and satellite TV providers with its bundle of communications and video services. Under the multiyear agreement, every Verizon carrier will offer the full digital signal of up to three public television stations in a market, along with their digital multicasts.
"This is a wonderful example of the diverse digital programming content Verizon can provide through the power of fiber optics," said Kathryn C. Brown, Verizon senior vice president for public policy development and corporate responsibility. "When Congress enacts television choice legislation this year, we hope to make quality content like this available more quickly to consumers."
Governmental Moves
The deal comes at an interesting time in television history. Next week, the Federal Communications Commission is scheduled to vote on a proposal that would require cable companies to carry the extra channels broadcasters are launching. The cable industry opposes the FCC mandate.
Meanwhile, the House passed the COPE video choice bill (HR 5252) on June 8. Similar legislation is underway in the Senate. Both bills would reform the franchise process to enable competing providers to enter the cable television market more quickly.
Verizon FiOS TV is currently available in parts of California, Florida, Maryland, Massachusetts, New York, Virginia and Texas. It delivers more than 400 all-digital channels, including two dozen high-definition channels. Verizon is opening new FiOS TV markets as it obtains franchise agreements giving it the authority to offer TV service.
Market Differentiation?
AT&T, the only telco larger than Verizon, is also rolling out a video service. The question is, how will the two top carriers differentiate themselves from cable and satellite competitors? Paul Erickson, market analyst in the Digital Consumer & Broadband Group of IMS Research, is not sure they can do it on price and content alone.
"The initial consumer perception is that the TV services the telcos have to offer is not radically different from what you getting from pay TV providers," Erickson told TechNewsWorld. "The telcos are in a tough spot because if they get competitive with their pricing then the shareholders won't be happy because it means the pay back on the billions of dollars they invested in infrastructure will be pushed back."
Major Step Forward
Of course, public television stations are not as concerned with investor pay back. PBS and others are pleased to get more carriage. The digital future holds extraordinary promise for public television, said PBS President and CEO Paula A. Kerger said.
"As more Americans take advantage of the wonders of technology, it is crucial they have access to the trusted, valuable content that PBS and its member stations provide," Kerger said, noting the partnership with Verizon is an important part of a broader effort to ensure PBS and its member stations remain a daily part of American life.