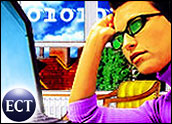 The debut of a diminutive motherboard from Via Technologies this week at the CeBIT computer show in Europe is serving as a catalyst for conversations throughout the computing industry about the return of the concept of the thin-client PC.
The thin-client computer, in theory, is a device that is just as powerful as a conventional PC, but with a size that will continue shrinking as a result of hardware innovation.
The term "thin client" also can refer to a software client on a client-server network, but in this case refers to a small hardware setup that makes system-on-a-chip or system-on-a-board technologies possible.
The new Via motherboard, just 4.8 inches in diameter, comes with an x86 socket that is compatible with the Pentium processor series from Intel. The so-called Epia N-Series Nano-ITV motherboard, fueled by the Eden-N processor, runs at speeds as fast as 1 GHz.
Initially for Embedded Apps
The motherboard was initially envisioned by Via Technologies, based in Taiwan, for embedded computer applications, not standard PCs.
However, the company's executives said at CeBIT in Hannover, Germany, that handheld computers are not the only suitable application for the motherboard, whose software compatibility with Intel's x86 chips gives the company a marketing advantage.
The disclosure at the top-flight trade show comes just as other computer companies, like DigiPoS Systems, Universal Display and Quatech, are moving forward with their own plans to continue development of the "shrinking PC" as an alternative to handheld PDAs.
Challenge: Reliability
The main challenge for these companies is making sure the PCs are reliable and have high-enough performance standards.
"Reliability becomes an issue because cramming everything into such a small space creates issues with overheating and can cause poor performance," a spokesperson for DigiPoS told TechNewsWorld, "often leading to critical failures."
DigiPoS is developing "small-footprint PCs for the retail industry," a spokesperson told TechNewsWorld.
"They are in the middle of rolling their hardware out across the entire chain of Circuit City stores and are the number two supplier of retail hardware behind IBM in Europe," the spokesperson said.
Fixing Overheating
The company has solved the overheating problem by employing liquid-cooled components, external power supplies and an array of other innovations.
Experts say these "shrinking PCs" — thin-client computers — offer many advantages over conventional computer systems, including reduced system hardware costs, easier network manageability, faster deployment times and even better security.
"As the software footprint for these systems shrinks, it enables their hardware footprint to shrink as well," Steve Runkel, CEO of Quatech, a Hudson, Ohio-based maker of serial connectivity solutions, told TechNewsWorld. "This not only reduces total system cost, but also provides for space-saving deployments."
Runkel noted that there are other challenges for developers of thin-client PCs as well, however.
Connectivity Compromised
"Unfortunately, as systems are downsized, their connectivity options are often compromised," said Runkel. "Even in thin-client environments, there is still a need to connect a wide variety of client-side serial peripherals, such as bar-code readers, scanners and PIN pads. A variety of serial connectivity products can be used for expanding client-side connectivity."
This includes low-profile PCI boards, which can add up to four serial ports per PC. "USB-to-serial adapters can add eight serial ports via a USB port, and serial device servers can network-enable any device so that it can be accessed from each thin client via a virtual COM port," said Runkel.
Many of these thin-client developers are working overseas — such as in the UK — but they do in-source high-paying jobs to the United States, according to a survey by the Organization for International Investment (OPII).