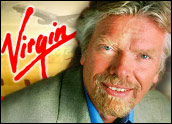 Virgin Mobile and BT Livetime announced a partnership yesterday to pilot live digital mobile TV. The duo will work with Microsoft, Sky, Argiva and GCap Media to do a four-month trial run over the DAB digital radio network.
The television service offers Virgin Mobile's customers access to live digital TV 24 hours a day, and features the UK's first mobile Electronic Programme Guide, so customers can see what's on now, what's on later, and even set an alert to remind them when a favorite program is about to start, up to a week ahead. Ultimately, Virgin Mobile TV will also let customers record their favorite programs to watch later on their mobile.
"This exciting new technology is a landmark in television broadcasting; it marks the coming together of the 21 century's two most popular technologies — television and mobile phones," said Graeme Hutchinson, sales and marketing director at Virgin Mobile.
Revolutionizing TV?
Initially, the pilot will provide selected Virgin Mobile customers with access to Sky Sports News, Sky News and Blaze, a new music channel designed specifically for mobile television, and to more than 50 digital radio channels. The technology allows for significant channel expansion after the commercial launch.
"Digital mobile TV will revolutionize how, when, where and why we watch television and how we use our mobiles to communicate," said Hutchinson. "People don't just want to watch TV when they are at home; now they can watch it any time, any place, any where."
An Emerging Demand
The question remains, however, do consumers really want to watch TV on a two-inch screen? In a quest to gain new incremental revenue streams, mobile carriers may be willing to find out.
Analysts said there have been successes and failures with new services. Ring tones were a surprising success and digital photos a surprising flop because people take photos but don't actually send them over the network.
Phil Leigh, senior analyst with Inside Digital Media, told TechNewsWorld that it's about time to test the feasibility of live television on a mobile phone. "Wireless carriers have a system in place with a high fixed cost and anything they can do to get incremental revenue tends to have an amplified positive impact on their bottom line," he said. "Maybe people want to see the last two minutes of a basketball game."
Looking to the Future
Leigh said 10 years from now TV delivered via a mobile phone will be more common. Twenty years from now, he added, it will be routine. His definition of "routine" means the service will be as ubiquitous as cell phones are today.
But what about those tiny screens? Leigh points to the iPod. Listeners plug in headphones. Much the same, he predicted viewers will plug in special glasses to view TV on a mobile phone.
"You'll have this panoramic effect a half inch from your eye. You'll feel like you are sitting on the front row of a movie," he said. There are such products available today, but they are not down to consumer price levels."