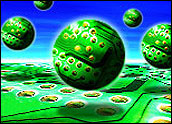 Virtual infrastructure software vendor VMware yesterday made competitive moves against rivals Microsoft and the open-source Xen project with new partnerships and shared source code announcements.
VMware announced it is working with AMD, BEA Systems, BMC Software, Broadcom, Cisco, Computer Associates International, Dell, Emulex, HP, IBM, Intel, Mellanox, Novell, QLogic and Red Hat to advance open virtualization standards.
VMware also announced that it will provide its partners access to its ESX Server source code and interfaces under a new program called VMware Community Source. The program is designed to allow partners to influence the direction of VMware ESX Server through a collaborative development model and shared governance process.
"Virtualization is gaining widespread adoption due to its indisputable customer benefits. It is an area rich in opportunities and the ecosystem will develop most fully with open standards," said VMware President Diane Green, noting that increased partner collaboration is the best possible way to give customers the ability to realize the full potential of the x86 virtualization layer.
Expanding the Virtual Ecosystem
VMware said its new initiatives are intended to benefit customers in several ways. First, the availability of open standard virtualization interfaces and the collaborative nature of VMware Community Source is intended to accelerate the availability of new virtualization solutions.
The company expects standard interfaces for hypervisors to enable interoperability for customers with heterogeneous virtualized environments. Vendors across the technology stack can now optimize existing technologies and introduce new technologies for running in virtual environments.
Finally, VMware said an open hypervisor standard framework can benefit customers by enabling innovation across an ecosystem of interoperable virtualization vendors and solutions.
As an initial step, VMware will contribute an existing framework of interfaces, called Virtual Machine Hypervisor Interfaces, based on its virtualization products to facilitate the development of these standards in an industry-neutral manner.
Making Friends Through Sharing
VMware's Community Source program provides industry partners with an opportunity to access VMware ESX Server source code under a royalty-free license. Partners can contribute shared code or create binary modules intended to spur and extend interoperable and integrated virtualization solutions.
Community members can participate and influence the governance of VMware ESX Server through an architecture board. VMware said this approach will help drive open collaboration while still preserving the ability of partners to build differentiated, intellectual property-protected solutions.
For customers, the VMware expects its Community Source program to yield a richer and broader set of partner solutions that are well integrated with VMware virtual infrastructure products. For partners, the company said the source access and development model allows them to efficiently deliver complementary solutions or differentiated product capabilities around the VMware ESX Server code base.
A Long-Term Play
Illuminata analyst Gordon Haff told TechNewsWorld that VMware was likely sharing source code with its impressive list of partners prior to the announcement, but the program "regularizes" the relationships and "takes it up a notch."
"By sharing code, a lot of this interaction with other products ideally becomes much more standardized over time," Haff said. "So the longer term objective is not necessarily to have VMware-specific virtual machine add-ons, but virtual machine add-ons that work in fairly standardized way with a variety of virtualization technologies, like management modules."
In other words, the objective is not to necessarily to manage Xen differently from Microsoft differently from VMware differently from IBM virtualization technologies, said Haff. The nirvana is to have a standardized system management.
"This nirvana is pretty far off," Haff said. "It will be an incremental process to get to that level of standardization or common interfaces. But that is certainly the long-term objective."