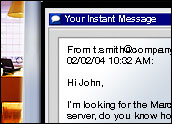 Microsoft's MSN and Vodafone yesterday announced plans to launch an instant messaging (IM) service between PCs and mobile phones. The new service will bring together MSN Messenger's 165 million customers with Vodafone's nearly 155 million customers.
The service will allow customers to see the "presence" of their contacts and exchange instant messages between MSN Messenger on a PC and Vodafone Messenger on mobile phones and vice versa.
"By enabling our customers to see each other's presence on both PC and mobile devices, we are expanding our customers' ability to make smart communication choices and connect instantly via IM to the people they care about most," said Blake Irving, corporate vice president of the MSN Communication Services and Member Platform group at Microsoft.
Messaging Merger
The service will be based on the familiar mobile commercial model of "Calling Party Pays." As they do today, Vodafone customers will prepay or pay for the service through their monthly bill, while MSN Messenger customers will be able to pay through packages available in connection with MSN Messenger.
Building on and complementing the messaging success of SMS, instant messaging between PCs and mobile phones enables service benefits to customers such as immediacy, the ability to tell whether a contact is available to receive a message (presence) and the ability to see the text of whole conversations.
"IM is a growing part of the increasingly important mobile messaging market. By bringing our collective customers together, we'll deliver more options for staying in touch when messaging. Our agreement will grow IM and SMS, meaning additional revenue for Vodafone," said Peter Bamford, chief marketing officer for Vodafone.
'Blood from Turnips'
Will this merger between cell phones and IM catch on? Jupiter Research analyst Joe Wilcox said businesses will likely adopt it, but consumer use will depend more on the pricing. Higher costs would diminish the technology's appeal.
"We haven't seen as great adoption of text messaging in the U.S. as in some other markets and one reason is cost," Wilcox said. "The carriers here want to squeeze blood from turnips. They try to extract as much money as possible for data. In the process, I would argue that this approach has stymied data adoption."
While businesses may also enjoy features like presence, analysts said employees may not appreciate the invasion of privacy. The concept of finding anyone, anywhere, at any time further blurs the line between work and home.
"We are talking about taking two forms of communication with fairly high expectation of immediate response and bringing them together," Wilcox said. " The idea is to make people more productive. But does work become your whole life?"