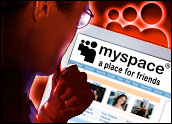 Vodafone has signed an exclusive partnership deal with social networking Web site MySpace, allowing its customers to access and update their MySpace pages from their mobile phones, according to the telecom giant.
The deal is expected to help Vodafone, Europe's biggest mobile operator, boost mobile usage and data revenues, while at the same time launching MySpace into the European mobile market for the first time.
The partnership will enable millions of Vodafone customers to access MySpace mobile, allowing them to edit their own MySpace profiles, find and add friends, post photos and blogs and send and receive MySpace messages while on the move, according to the companies.
Access Anywhere
Vodafone said it plans will roll out the service in the UK during the first half of 2007. It will immediately begin pre-loading MySpace mobile software on select handsets, as well as make it available for download from its Vodafone live portal.
The move follows a continuing trend targeting kids by increasingly providing access to the most popular online portals through mobile devices, Rob Enderle, principal analyst with the Enderle Group, told TechNewsWorld.
"These companies are essentially trying to turn the cell phone into the primary gateway to the Internet," Enderle declared. "The main reason is because it allows them access wherever they are."
Spreading Through the World
MySpace has been poking around the European market for some time, and is hoping it can now catch fire much the way it has in the American market.
In addition to this deal, MySpace launched its French Web site and a beta site in Germany last month.
MySpace, purchased by media giant News Corp. for US$580 million in 2005, has been looking to boost its global network of users via international expansion, through mobile and video-related content offers.
More Deals Coming
The industry is bracing for many more deals converging mobile and big Internet players, according to Enderle.
"It is just the beginning of a broad movement," he predicted.
In December, Cingular Wireless made a connection with MySpace to allow MySpace users to update their online profiles through compatible Cingular phones.
At the time, the deal represented MySpace's biggest push to date into the wireless world, and gave Cingular's customers access to the new MySpace Mobile software.