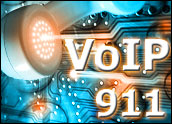 While technology news buzzes around Vonage's (NYSE: VG) recent IPO and Skype making major moves into the enterprise, there is a nagging issue all Voice over Internet Protocol (VoIP) players face: 911 response.
Few can deny the cost saving benefits of Internet telephone services, but the chief concern is emergency situations — when the drawbacks can be deadly. Unless the VoIP user is registered with a name and address, emergency dispatchers cannot determine where the call is coming from. If the caller is unable to provide the information verbally, precious time is lost in an emergency situation.
Handling emergency calls is a pivotal issue for VoIP networks. The Federal Communications Commission requires VoIP providers to deliver location and callback number information to emergency personnel. While the onus falls on the consumer to provide this information to their vendor, mobile challenges are complicating an already complex issue.
The E911 Challenge
Indeed, Enhanced 911 (E911) is the main obstacle for the VoIP industry in this phase of its evolution. E911 automatically associates a physical address with the calling party's telephone number, eliminating the need for the consumer to update the provider and avoiding emergency dispatches to the wrong address.
"The issue is location, location, location. This is doubly important to mobile or nomadic VoIP users who can easily move their IP phone connection from one broadband/WiFi connection to another," Mike Smith, managing partner for IP911 Resource, makers of the patented Superior 911, or S911, technology, told TechNewsWorld.
"By itself, an IP address does not provide enough information for emergency responder personnel to be dispatched to the right location," he added.
Analysts agree that there is yet no solid solution for mobile VoIP. Even if a customer does update his information to the new location, there is a lag time between the customer's update and the database update. "Pure plays such as Vonage are unique as they have a tie into the 911 system through the RBOCs, CLECs or LECs. This can take time, money and additional infrastructure costs," Dr. Lov Kher, senior VoIP consultant at BusinessEdge Solutions, told TechNewsWorld.
Tackling Location Issues
The National Emergency Number Association (NENA) has two proposals that seek to address the mobility issue. The new architecture of E911 NENA proposes would solve some of the issues. NENA i2 would allow close to real-time Automatic Location Identification (ALI) database updates. NENA i3 proposes GPS implanted in all ATA (electronic) devices.
For now, VoIP providers are protecting themselves with disclaimers, Kher explained. "For loss of power, loss of Internet and even the mobility of the ATA devices, all service agreements with consumers contain numerous disclaimers about a lack of E911 service in many cases. Some even require an agreement for arbitration in case of dispute, which seeks to limit the ability of consumers to file lawsuits against the providers," he noted.
If providers continue to have E911 problems that make headlines, Kher added, the FCC will be forced to bring up new emergency calling rules.
FCC Impacts
The FCC has already made its voice heard on the issue once. Last June, the government agency gave Internet-based phone service companies 120 days to create an E911 system from scratch, and provide all of its customers with the service. Vonage in March announced that more than 1 million subscriber lines have E911 service.
"Our goal is to get every Vonage customer help when they need it and we will not stop working with the FCC, regulators, Congress and PSAPs (Public Safety Answering Points) until there is equal access to E911 for Vonage's customers," said Jeffrey Citron, Vonage's chairman and chief strategist.
The requirement is the carrot. The question is, how big is the stick? Will non-compliance result in the service being shut down, or fines? It is difficult to say at present, said Dave Gladwin, system marketing manager for Newport Networks, a developer of VoIP networking technologies.
Gladwin brings up an interesting point: VoIP can easily cross international boundaries, so there is no reason why a UK provider could not host a U.S. subscriber. Does this mean offshore providers are not subject to the same requirements?
"This is likely to create a two tier industry, tier 1 being the full featured service which provides equivalence with traditional fixed-line telephony and tier 2 being strictly 'second line' functionality," Gladwin told TechNewsWorld. "But in this case don't confuse tier 2 as being less functional, it may well deliver a far more feature rich service."
Coming Shakeout
Gladwin is alluding to a shakeout. One thing is certain: new FCC requirements would take away some of the price advantages pure plays have enjoyed. They will either have to eat those new fees or pass them on to the consumer. So there will be a shakeout, Kher agreed, but the FCC will not drive it.
"Voice is trending to zero and the margins are shrinking. Cable, wireline and soon wireless companies are able to bundle multiple services together and those bundles will squeeze the pure plays," Kher said.
"In ten years, voice only providers will probably not exist. In the future, the majority of voice/content/data will probably be provided wirelessly."
Stimulating Industry Innovation
Some industry watchers believe the FCC's requirements are already stimulating innovation among VoIP providers. Due to the broad range of terminals that can support VoIP an equally broad range of technologies, additional technology needs to be developed and employed to assist in providing location information.
"For limited types of terminals GPS may be the answer. However this technology will only be effective outdoors," Gladwin noted. "New location technologies are being investigated such as using TV and radio station transmissions to triangulate the client device. These techniques are currently only experimental and again may be of limited applicability."
"Experimental and limited applicability." Those words sort of sum up the state of VoIP today. Many customers are experimenting with the technology. Few have been willing to give up their landlines for Internet telephony. Emergency responder issues are one barrier to greater VoIP adoption that the industry is working overtime to solve.