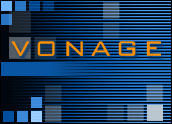 In what appears to be a move to attract more subscribers, Vonage today announced a trade-in promotion that offers U.S. customers a Linksys WiFi access point.
Consumers can trade in their used router for a Linksys Wireless-G Router configured with Vonage when they sign up for Vonage's broadband phone service through July 23.
The trade-in amounts to a free router. Consumers are required to purchase Linksys model number WRTP54G at about US$130. Vonage then distributes rebates to those consumers who sign up for its phone service and trade in old wireless routers.
"As more Americans are moving to wireless networks, they can now easily configure their home networks by switching to Vonage, and immediately start getting more for their communications dollar, knowing also that they can depend on the high performance and reliability of Linksys," said Matthew Deatrick, senior vice president of sales for Vonage.
Unplugging Away
Vonage is plugging "significant benefits" to taking it up on its trade-in offer. The company said consumers can save money on phone calls, get more features and maximize their broadband connection.
Customers can use their current home phone system and never have to change phone numbers again, Vonage said. The service, which costs $24.99 a month, allows users to choose any area code from across the U.S. and many other countries.
Vonage gives customers standard features for free and adds new capabilities that traditional phone service don't offer, such as online voicemail, free in-network calling, virtual phone numbers, and Click-2Call.
Looking to the Future
The Synergy Research Group predicts Vonage will continue its growth patterns. The firm also estimates there will be 58.9 Voice over Internet Protocol (VoIP) users by 2009. Analysts said Vonage may find a way to tap into a dual market by then.
Aaron Nutt, Atlantic-ACM analyst covering the VoIP sector and the principal author of "VoIP Revolution 2004-2009: The Opportunity, The Market, The Players" told TechNewsWorld that the Linksys partnership appears to be a Vonage effort to position itself for dual mode services down the road.
"Vonage is picking up a lot of steam in terms of name recognition and subscriber base on the consumer side, but ultimately not having wireless services is still a major issue," Nutt said. "I would assume, strategically, that the possibility of adding wireless services is what they are looking for with the Linksys deal."
But what about attracting subscribers? Analysts said they may attract a few via this trade-in program, but again, it's more of a future play than a short-term boon.
"I'm not sure how much this deal will really boost subscriptions in the short-term," Nutt said. "I think it really has a more positive medium-term impact once the technology behind dual mode is a little more established, or at least more easily accessible to the consumer."