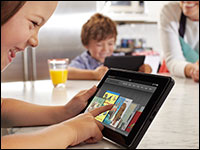 Jakob Nielsen, the design expert dubbed "the guru of Web page usability" by The New York Times and "the Web's usability czar" by WebReference.com, didn't find too many user-friendly features on Amazon's new Kindle Fire, according to a report he published on his website Monday.
The device is too heavy for extended use, Nielsen said, and he has problems with both the software and hardware design. The 7-inch screen is an awkward in-between of a traditional tablet size and a large mobile phone, he added, making Web browsing and interactive touch features very difficult.
His findings were based off a four-person user study of consumers who had 1.5 to 2.5 years of experience using tablet devices. The Kindle Fire, which sells for US$199, didn't fare well.
The Kindle Fire, an enhanced tablet version of Amazon's popular Kindle e-reader, has apparently been a hot seller for Amazon after only a few weeks on the market.
Launched in mid-November, the tablet is projected to ship 3.9 million units by the end of the year, earning 13.8 percent of the market share, according to a report from IHS. That puts the Fire in the number two spot behind Apple, which controls about 65 percent of the market, and well ahead of its nearest competitor, the Samsung Galaxy Tab, which should have a 4.8 percent share at year's end.
Amazon didn't respond to our requests to comment on Nielsen's report.
7-Inch Flop?
One of Nielsen's biggest gripes with the Kindle Fire is the 7-inch display, which is smaller than a full-size tablet and larger than a smartphone. This size, he predicted, will be "either a glorious failure or fail miserably."
In a larger tablet screen, such as the one found on an iPad, the display is big enough for user-friendly touch interaction, he said. And when it comes to smaller mobile screens like those on phones, developers have already adapted their interfaces to work well with a limited number of square inches and avoid "fat finger" problems.
"Using designs intended for a full screen on a 7-inch tablet is like squeezing a size-10 person into a size-7 suit. Not going to look good. But that's what the Fire is trying to do," Nielsen wrote.
But this problem could be solved if sales remain hot enough. If, he said, the Kindle Fire flies off shelves and Amazon or other tablet makers have an incentive to go back and invest in better design for the 7-inch screen, it could end up being a happy medium and a user-friendly size for consumers looking for a more mobile device.
"I think it's more likely that Apple will release a 7-inch model than Amazon will release a 10-inch model," J. Gerry Purdy, principal analyst at MobileTrax, told TechNewsWorld.
Calling: Droid Developers
Another issue is the platform the Kindle Fire runs on: a product-specific version of Android. That means developers, already busy juggling between iOS, Android and other platforms, would have to adjust once again to develop unique Kindle Fire apps.
Major outfits such as The Wall Street Journal have created Kindle Fire apps, but smaller, more independent developers might stick to the more established platforms for their best work.
Nielsen's projection for whether or not that will be a problem for the development of the product is similar to his thoughts on the fate of the 7-inch display.
"It's certainly a potential problem going forward that fewer apps may be available for the Kindle if it's too different to develop for it, as opposed to the broader Android platform. The real question here, though, is how many copies it will sell in the next year or two. If they do sell a lot, the apps will follow," Nielsen told TechNewsWorld.
Fire Sale
Nielsen has several other problems with the Kindle Fire, including its weight, which he said makes it difficult to hold for extended periods of time. Web browsing is nearly impossible due to a combination of the 7-inch display and software rough spots, he added.
However, the Amazon shopping experience is great on the Fire, according to Nielsen, who noted that if he was a conspiracy theorist, he'd think Amazon were up to something by making other commerce sites a pain to access.
"It's very easy to shop on Amazon through the Fire. This is true both for general Amazon shopping through the built-in Amazon app and for shopping for downloadable content. This integration is done well. The problem is really that the content doesn't shine once it has been downloaded because the reading experience is too poor, particularly for magazines and newspapers," he told TechNewsWorld.
Not everyone had as poor an experience as Nielsen and his testers.
"I found the Kindle a delight to use and think that some of the shortcomings are simple changes to the user interface that either Amazon or Google can incorporate for 7-inch models. He says it's heavy, but has he ever tried to hold an iPad with two fingers on the edge?" asked Purdy.
Consumers usually have a pretty good idea of what they're looking for upon entering a retail store or browsing online, and Nielsen's report is unlikely to sway users who've already made up their minds, he said.
"If you want to read books plus share photos of family members and friends, get a Kindle Fire or Nook tablet. Get an iPad if you use a lot of publishing apps and want a large screen for watching movies or showing presentations," said Purdy.