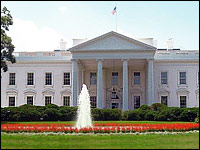 The White House launched new versions of its mobile app Tuesday, releasing the app source code along with the new version in an invitation for developers to tinker with the revamped iOS and Android apps.
The apps, which have been rebuilt from the ground up, now feature live video streams of White House events, access to 99 percent of the content on WhiteHouse.gov, breaking news updates and tools for sharing White House digital content on social networks.
The revamped versions are also available for the iPad and Android tablets and are optimized for the high-resolution iPad Retina display.
It's also possible the apps will undergo further changes, thanks to the White House release of source code. It invited civic hackers, local organizations and federal agencies to download the apps and tailor them for their own projects.
The White House did not respond to our request for comment on the story.
National Exposure
It still remains to be seen how many developers will jump at the chance to tinker with the White House's new app, but the opportunity has great potential, said Kirby Goidel, professor of political science at Louisiana State University.
"It certainly provides an opportunity for some very high-profile exposure, so there is clearly an incentive here," he told TechNewsWorld. "If your business is creating apps, how powerful would it be to say that you played a role in the White House redesign?"
Still, it might take some time for that enthusiasm to take off, said John Yunker, president and analyst at Byte Level Research, noting that the GitHub page for the app had few members as of Wednesday morning.
"There are only three members which, at first glance, is not a great sign," he told TechNewsWorld.
Making Campaigns More Mobile
Whether or not more developers jump at the chance to revamp the White House app, the rise of mobile apps are likely to play an important part in political campaigns and outreach going forward. The app redesign is part of President Obama's initiative to insure that key government services be made available on mobile devices.
As more political candidates hope to increase their presence on social networks such as Twitter and Facebook — and simultaneously avoid scandal via those sites — the rise of social media in campaigns has been well documented. Still, mobile apps and their monumental growth even since the last presidential election are still a relatively new way for campaigns to get their message to the public.
That greater exposure, especially to a younger crowd, could be significant, said Joseph Kahne, chair of the MacArthur Foundation Research Network on Youth and Participatory Politics.
"This kind of development is significant," he told TechNewsWorld. "It is one more clear signal of the increasing centrality of digital development to varied aspects of politics. We see many signs that mobile devices are increasingly important. One would expect that they will play an even more important role in mobilizing voters and in getting messages out in 2012 than they did in 2008."
Still, a major developer challenge exists, said Goidel, noting that mobile users tend to only download apps in which they are already interested. The best developers, he said, will be able to create an app that can engage and inform users of any political persuasion.
"The real trick will be apps that engage voters in ways that mobilize voters or help campaigns better target messages. I am not sure that this has been fully tapped," said Goidel. "Social media, because the messages often come from trusted sources, seems like it would be more powerful. The potential power is in capturing information about visitors, engaging them, and using that information to target information."