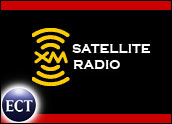 XM Satellite Radio today announced an exclusive strategic relationship with Audible through which it will introduce portable, handheld satellite radio devices capable of providing content from both companies in 2006.
XM offers more than 150 digital radio channels of commercial-free music and talk radio content for the vehicle, home, and portable use. Audible offers more than 70,000 hours of downloadable audio programs for playback on computers, iPods and other MP3 players, PDAs and other devices.
With the launch of these "AudibleReady/XM" devices next year, XM subscribers will be able to expand their listening experience through purchase of audiobooks and other content from Audible. Terms of the agreement were not disclosed.
"From Billboard to Smart Money magazine, XM is widely recognized for having the best content and the best technology in satellite radio," said Hugh Panero, President and CEO of XM Satellite Radio. "Audible and XM are the leaders in our respective businesses, so it's logical for us to work together on content distribution and technology."
Content is King
In addition to these new products, Audible will offer popular XM talk programs via the Audible Web site this year, beginning with The Bob Edwards Show and Opie and Anthony. XM programs will join the more than 45 regularly recurring audio subscriptions available for downloads to users of AudibleReady digital audio devices.
Also this year, XM will produce a new Audible audiobook program for broadcast on XM Satellite Radio that will consist of features, interviews, and news focusing on the world of audiobooks and other spoken-word listening. Audible will co-executive produce the program and offer it for download at Audible.com.
XM and Audible will also co-market each other's service. Audible's 70,000 hours of spoken-word programming will become available at XMRadio.com through a co-branded e-commerce boutique for download and transfer to AudibleReady devices. XM will feature Audible on the air, on its Web site, and other channels.
Preparing for the Future
Robert Unmacht, principal of radio consultancy iM3 Partners, told TechNewsWorld that the Audible alliance is a smart move for XM Radio because it plays to the future.
"Both XM and Sirius are building a brand more than a technology. As the world goes broadband — and that's where we are all headed — then having that brand allows you to port over to new distribution methods," Unmacht said. "It's the content you build now that's going to play in the future."
Unmacht said XM Radio is attempting to lock up content agreements before competitors like Clear Channel and Viacom have a chance to play in the game. XM Radio also has strategic alliances with Major League Baseball, Fox Sports, MTV and VH1, among a long list of others.
Moving Toward Mainstream
As XM and Sirius continue hyping their respective services with sweet dreams of profitability, commercial, a.k.a. terrestrial, radio is beginning to show some concern as analysts and record labels get on the satellite bandwagon. Even television commercials from General Motors, Honda and Avis are plugging satellite radio.
Although Sirius and XM Radio boast more than 5 million subscribers combined, the service is still a niche market. Unmacht said the broadband revolution could change that.
"Power is wherever you need it. That's what broadband is going to be like," Unmacht said. "That's what ultimately needs to happen to help satellite radio really take off."