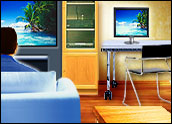 YouTube is drawing the eyeballs of millions of viewers and the ire of some major television broadcasters with its viral video service. Now the company is also drawing the eye of E! Networks, a producer of entertainment news and lifestyle-related programming.
YouTube and E! are partnering to bring a new broadband offering to the Internet airwaves called "Cybersmack," a homegrown video inspired by satirizations of pop culture.
Expanding Franchise
Since premiering as a segment in E!'s series "The Soup," E! Networks said "Cybersmack" has become a viewer favorite. Now the network will expand the franchise with a dedicated broadband channel on The Vine @ E! Online in partnership with YouTube. E! has also launched a consumer sweepstakes offering a US$25,000 prize for the best "Cybersmacker."
"E! continues to bring viewers and Web surfers the most comprehensive look possible at entertainment and pop culture," said E! Networks' President & CEO Ted Harbert. "The expansion of 'Cybersmack' celebrates the growing online video phenomenon in a way that is uniquely E!, and YouTube is the perfect partner given their tremendous success in the space."
E!'s Tube
On the "Cybersmack" broadband channel, consumers can view the Web's new videos about the world of entertainment and popular culture. In addition, an ongoing partnership with YouTube will direct members to the new broadband channel on The Vine, as well as provide the opportunity for YouTube users to view "Cybersmack" clips and upload their own video content.
Terms of the deal were not disclosed, but E! may be more interested in how YouTube's traffic can expand its long-term revenue stream. YouTube is the Web's most popular video site, with the community watching over 30 million videos per day. YouTube will introduce "Cybersmacking" to a whole new — and vast — audience.
"We're thrilled to partner with such an innovative and progressive network as E! Our users are passionate about watching creative short-form videos that they can easily share with their friends, family and the broader community," said Chad Hurley, YouTube's co-founder and CEO.
The Wikipedia of Video
Short-form is the key word, said Inside Digital Media Senior Analyst Phil Leigh. He likens the "Cybersmack" segments on "The Soup" to a sort of People magazine for television — the stories are often 60 seconds or less. This format works well on the Internet, Leigh noted.
"This really opens up a world of new content for E! online. I see it as analogous to Wikipedia. With Wikipedia out there, everyone is contributing. It is a collective knowledge," Leigh told TechNewsWorld. "Wikipedia has demonstrated that this collective mind on the Internet is very powerful. We could see the same thing with short-form video online."
Network Backlash
E! and YouTube seem to be playing well together, but other broadcasters are not impressed with the company. NBC Universal and CBS have demanded that the site dump illegally acquired footage. Other brands, like MTV2 and Dimension Films, however, have embraced the concept.
Leigh is not surprised that YouTube is not a favorite of the entire industry, but noted that networks can view the medium as a threat or an opportunity. "To the extent that the networks are looking for new content, YouTube gives them a world of new sources," he remarked.