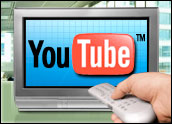 Warner Music Group on Monday inked a deal with online viral video community YouTube to distribute its library of music videos, which includes content from such acts as Madonna and the Red Hot Chili Peppers.
YouTube will also distribute behind-the-scences footage, artist interviews, original programming and other special Warner content to its community, which views more than 100 million videos every day.
Musical Views
In addition, YouTube users will be able to incorporate music from the world's fourth-largest record company's music catalog into the videos they create and upload onto YouTube. This part of the agreement is an interesting move in a community where users reguarly do so without permission from copyright holders.
Warner is the first music company to officially attempt to harness YouTube's community power to commercially distribute its music video content.
The announcement comes in the wake of Universal Music's accusation that YouTube and MySpace are "copyright infringers" and that they owe the music industry millions of dollars. Some analysts believe a copyright lawsuit against the sites is forthcoming.
YouTube is taking steps to avoid such claims by partnering with major media companies and developing a content indentification and royalty reporting system set for release by the end of the year. The system is designed to give content creators, including record labels, TV networks and movie studios, the opportunity to authorize the use of their content within the YouTube community.
YouTube and Warner will share revenue from advertising on both Warner music videos and user-uploaded videos that incorporate audio and audiovisual works from Warner's catalog.
Free For All
Inside Digital Media Analyst Phil Leigh called the announcement a "fairly significant development." Ultimately, he told TechNewsWorld, music will be available for free over the Internet.
"I think we are going to see that music delivered online will be free and advertising supported. What the labels are realizing is that the Internet is a powerful tool for popularizing content. Radio is losing its influence. Its audiences are declining. More people are turning to the Internet, and record labels are hoping to leverage the channel."
Leigh points to Universal and EMI's recent announcements to sign on with Spiral Frog, a new music download destination that uses an advertising-supported model. Analysts believe this model will help the record industry combat piracy by offering a high-qualty alternative to illegal file-sharing sites that often offer poor-quality files and are riddled with spyware.
A Win-Win-Win
As Spiral Frog moves to seal major deals of its own, the Warner partnership is monumental for YouTube, which grew through grassroots efforts but is now shifting its model to monetize traffic. Warner Music Group is an industry heavyweight and parent to record labels including Atlantic, Bad Boy, Warner Bros. Records and many others.
Warner believes its artists will embrace the opportunity to reach this audience with promotions, and the music titan retains the right to request the removal of copyrighted content from YouTube if an artist elects to remove it.
"This agreement establishes a model by which content companies can transform consumers' creativity into a legitimate commercial enterprise that will benefit fans, artists and copyright holders," said Alex Zubillaga, Warner Music Group's executive vice president of digital strategy and business development.