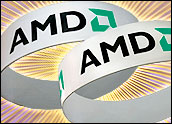 Advanced Micro Devices has unveiled plans to replace its Athlon processor line with a new quad-core chip for desktop PCs in an effort to keep pace with chief rival Intel.
AMD will launch its quad-core desktop processors under the name "Phenom" later this year, shortly after the company unveils its quad-core Opteron processor, dubbed "Barcelona," for servers.
The Phenom brand will be the name for AMD's performance chips moving forward, according to the company. The Athlon 64 X2 brand will remain for mainstream chips, and Sempron will continue to bring up the rear.
Platform for Enthusiasts
In addition to the new line of quad-core products designed to compete with Intel's Xeon processors, AMD unveiled a new platform that will offer eight-core technology for gaming and PC enthusiasts, dubbed "FASN8" (pronounced "fascinate").
The new octo-core platform includes two quad-core Phenom processors — the DirectX 10 ATI Radeon HD 2900 XT and an upcoming chipset expected to launch in the second half of 2007 — according to the company.
Intel expects the introduction of the AMD Phenom processor line to increase its presence in the enthusiast community, said Bob Brewer, corporate vice president and general manager of AMD's desktop division.
Broadening the Base
FASN8 marks AMD's first attempt at delivering its own PC platforms since it bought ATI, an independent producer of graphics processors, in October. The platform will contain two quad-core Phenom processors, an ATI Radeon HD 2900 XT graphics card and a new chip set. It is also expected to launch later this year.
Geared for desktop computers and mobile platforms, the new series of graphics processors squarely positions AMD to appeal to a wider range of users including gamers, creative professionals and PC enthusiasts.
"Their high-performance part is designed to be faster — with more caches and a higher benchmark," Rob Enderle, principal analyst with the Enderle Group, told TechNewsWorld. "The important thing for AMD is putting lot of effort in what is a high-margin segment."
The new platform also illustrates AMD's commitment to developing a single solution with increased levels of integration to boost real-world performance, according to Enderle.
Stabilizing Prices
AMD is attempting to reverse a trend and shift the market to focus competition on something other than price, suggested Enderle. In recent years, AMD has moved to stabilize its selling prices.
"If Intel follows, there is a chance that margins [may] improve from both companies," Enderle said.