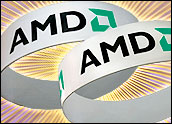 AMD on Thursday announced plans to publish its Opteron socket specification under its Torrenza licensing initiative. The chipmaker is hoping the move will spur other chip makers to design application-specific co-processors that can be integrated alongside Opteron.
AMD's Torrenza Innovation Socket represents a new and different approach to server design. The idea is to let computer makers pop co-processors into sockets that would normally only hold AMD's chipsets. AMD's goal is to reduce datacenter disruption and deployment costs and, of course, boost its sales.
AMD is getting industry support for what it calls its "open innovation initiative." Cray, Fujitsu Siemens Computers, HP, IBM, Dell and Sun Microsystems have licensed the socket technology.
A Different Approach
AMD's Torrenza program is a departure from the type of processor development scheme Intel follows, which is extremely proprietary, according to Pund-IT Principal Analyst Charles King. That departure could give AMD a significant competitive advantage in the months and years ahead.
"Intel does have its own multiprocessor socket efforts in place. It's had a long-standing effort going on to create a common socket that would take both Xeon and Itanium, for example, but that's very much an Intel-only party. What AMD is doing is basically throwing a party at its house and welcoming everyone at the door."
Everyone, perhaps, except Intel.
Edging Out Intel
To be sure, AMD has amped up its competitive measures against rival Intel — and some of its moves are bearing fruit. Most recently, AMD scored a major coup by finding its way into some Dell desktop computers, a territory that has traditionally been reserved for Intel chips.
Now, Dell is also supporting AMD's Torrenza initiative. The AMD approach will let Dell and other hardware manufacturers consolidate server offerings that use multiple processors to a single platform, according to Marty Seyer, corporate vice president and general manager of AMD's commercial and performance computing group.
AMD's HyperTransport technology is the difference. AMD is touting the benefits of this technology as it vies for more market share from Intel. The technology connects non-AMD accelerators to AMD64 systems.
Torrenza supports a range of integration innovations from interconnections leveraging HyperTransport, to co-processors accessing HyperTransport, to plug-in co-processors that directly harness the speed and communications delivered by HyperTransport.
Intel is rearing its head with a HyperTransport alternative called Common System Interface. The technology is still under development, though, and it is not yet certain whether the chipmaking titan will follow AMD's footsteps to allow others to directly connect chips to its processors.
Rallying Industry Support
IBM is also applauding AMD for its open strategy. Sun, meanwhile, sees an "incredible innovation opportunity" as it evaluates developing silicon for the Torrenzo socket for all Sun platforms, and HP views Torrenzo as a way to deliver high-value computing services to specialized market segments.
IBM's Roadrunner, a supercomputer at Los Alamos National Lab, uses the co-processor approach. Roadrunner uses 16,000 Cell processors and 16,000 Opteron processors for its high-level computing.
"AMD's initiative is very much [in] keeping with the work that IBM has been doing creating these hybrid chips and hybrid chipsets where different parts of computing workloads are distributed onto the chipset that is best suited for it," King said. "If this is successful, it would allow AMD to position itself to partner with any other chip vendor that saw Opteron as a complimentary technology."