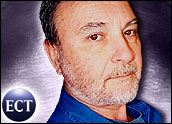 The MPAA (Motion Picture Association of America) is trying to persuade the Supreme Court to overturn a lower court ruling that P2P companies aren't responsible for what users do with P2P technologies. Meanwhile, the movie industry trade group is suing more people it says are illegally distributing films online.
MPAA officials won't say how many lawsuits they've filed, or where. Nor will they say if any of the pirated movies in question originated with Academy Award "screeners," copies of nominated films that are sent to Academy voters so they can view them at home.
A report from AT&T Labs' Secure Systems Research program says that of 285 underground movies sampled, 77 percent were leaked by industry insiders.
Whom To Sue?
Academy of Motion Picture Arts and Sciences member Carmine Caridi, 70, was recently ordered to pay Warner Bros. US$300,000 for providing copies of "The Last Samurai" and "Mystic River" to Russell Sprague, 51, who then posted them on the P2P networks.
Mel Gibson's "The Passion of the Christ" was the most-posted movie on P2P networks in April last year. Gibson sued not file sharers but a Hollywood post-production company.
When asked about the new lawsuits, however, John Malcolm, MPAA director of worldwide anti-piracy operations, told the Los Angeles Daily News, "This is something we feel we must do."
He added, "The litigation targets movie fans who share digitized versions of films over peer-to-peer networks. Under the United States Copyright Act, each violator could be subject to fines of between $30,000 and $150,000 per violation."
Scare Tactics
Meanwhile, the Christian Coalition of America has fallen hook, line and sinker for spurious Big Music cartel claims that P2P file sharing applications have a major role in the existence of online pornography.
The Supreme Court will hear arguments in the P2P case on March 29. Briefs from Grokster and Morpheus, the principal defendants, and their supporters are expected today.
With senators Orrin Hatch and Pat Leahy leading the way, the four major record labels have been using the specter of online pornography, particularly child porn, to persuade groups such as the CCA — which has zero interest in the music industry — into backing them as they try to crush P2P file sharing, which, they claim, is devastating their multibillion-dollar businesses.
"File-swapping services make pornography easily accessible to minors, the social conservatives submit," says the Associated Press.
It's unlikely the Christian groups would have come up with this idea had not the cartel — Sony BMG, EMI, UMG and Warner — raised it in the first place as part of its effort to kill P2P.
The MPAA is still reporting record profits.
---
Jon Newton
, a TechNewsWorld columnist, founded and runs
p2pnet.net
, based in Canada, a daily peer-to-peer and digital media news site focused on issues surrounding file sharing, the entertainment industry and distributed computing.
---