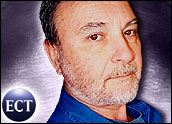 As of November 15, the Big Four record label cartel's 'Man in Canada' will be Graham Henderson, senior VP of business affairs and e-commerce for Universal Music Canada, who manages Universal's e-commerce strategy and helped launch the Puretracks plastic music site.
He'll soon be running the CRIA, short for Canadian Recording Industry Association, sometimes known as the Canadian Recording Industry Association of America.
Henderson is described as an ex-"high-profile entertainment lawyer" and is married to Cowboy Junkies singer Margo Timmins.
Assigning Blame
Under outgoing president Brian Robertson, the CRIA failed in its attempt to force five Canadian ISPs to hand over the names and addresses of 29 customers.
"These are individuals who are each illegally distributing hundreds if not thousands of music copyright files to millions of strangers," said Robertson at the time. "Clearly these people are blatant exploiters of artists' careers and their music, and have no apparent interest in where the music is going to come from in the future."
Robertson claimed file sharing is "devastating" the multi-billion-dollar music industry, and also tried to lay the blame for "average staff layoffs of 20 percent and more" and the "probability of a dramatic reduction in opportunities for Canadian artists and Canadian music" on the doortstep of Canadians who share music online.
More recently, in another major blow to the music industry, Canada's Supreme Court ruled that ISPs are "intermediaries" who aren't bound by Canadian copyright legislation.
When the decision came down, Robertson tried to dress it up.
"The recent, widespread publicity on the Federal Court ruling seems to have heightened the awareness of the Canadian public to copyright issues," he said, also describing the defeat as a "clarification," saying it was a, "very good outcome for Canadian record companies" because it "clearly affirms … Canada's Copyright Act."
Pushing for Prosecution
The U.S.-based Recording Industry Association of America (RIAA) has sued 6,191 people since September 2003, claiming its efforts are having a marked effect in reducing online file sharing via the P2P networks.
It wants to do the same thing in Canada, where it's not illegal to share music online.
However, recent Canadian and U.S. studies concluded that the music industry practice of suing families and their children who use P2P applications is having zero effect.
As the new CRIA head, Henderson will "continue to lobby the Minister of Canadian Heritage, Liza Frulla, to push forward the May 12 recommendations of the Standing Committee on Canadian Heritage," according to the CRIA. The organization also states that:
"The committee's 'Interim Report on Copyright Reform' recommended that legislation to overhaul the Canadian Copyright Act be introduced in the House of Commons by November. The legislation includes provisions for Canada's ratification of World Intellectual Property Organization treaties dealing with copyright protection in the digital age.
Tapping Resources
WIPO threatens to bring Canada under something akin to the entertainment industry- inspired Digital Millennium Copyright Act (DMCA), which is wreaking havoc in the U.S.
It's a pity (from the CRIA's point of view) that former heritage minister Helene Chalifour Scherrer isn't still around. She's an ardent fan of the corporate music industry and had promised to sort Canada's copyright issues out on behalf of Big Music. But, sadly for the cartel, she sank without a trace during this year's election.
Come to think of it, Henderson might do better to try Canadian prime minister Paul Martin before he takes a shot at Frulla.
During a record label ad fest in Canada recently, Martin said the Canadian music industry is "an important part of our sovereignty."
It can't be stated any more strongly than that.
Back to Liza Frulla: When her appointment was announced, Robertson was "very enthusiastic" because of her experience in the culture field.
Protecting Big Music
"Copyright revision is the primary issue," Robertson was quoted as saying in a Canadian press report. "It's not going to be a stretch at all for her to continue to support that process."
The stretching, however, was all Robertson's. I wasn't able to find a reference to back Robertson's claim that Frulla would "continue" to support copyright revisions. But it's automatic for corporate music industry spokespersons to impart spin every time they open their mouths.
What he meant is, he and his masters desperately hoped Frulla would sit in the shadow cast by Scherrer.
However, Henderson warns that even with changes, Canada's Copyright Act, "would still not be able to serve the needs of the business community."
By that he means whatever happens, in Canada, Big Music still won't be able to run rampant in quite the same way that it does in the U.S.
---
Jon Newton
, a TechNewsWorld columnist, founded and runs
p2pnet.net
, a daily peer-to-peer and digital media news site focused on issues surrounding file-sharing, the entertainment industry and distributed computing. p2pnet is based in Canada where sharing music online is legal.
---