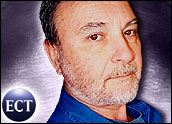 Pay us 4,000 pounds (US$7,290) by July 1. Or go to jail.
That's the message from the BPI, the Big Four record labels' UK enforcer, to the mother of 14-year-old Emily Price who downloaded songs from the Net without her 53-year-old mother knowing, says Britain's Gloucestershire Echo.
The BPI (British Phonographic Industry) has been carrying out a campaign of terror and intimidation on behalf of its owners, EMI (UK), Sony BMG (Japan, Germany), UMG (France and WMG (America).
Intimidation Techniques
Does "terror" seem a little strong? Think again.
"I'll have to go to prison because I haven't got that kind of money," Mrs. Price is quoted as saying. And all over music for which the labels have already been paid.
The tracks her daughter downloaded are low-fidelity copies of songs previously published on retail CDs and for which the corporate music services are now demanding a further $1 or more each.
Working on behalf of the labels, the BPI has been able to con several major British newspapers into carrying false and misleading information which says file sharing is devastating its owners.
By way of example, and not at all coincidentally, a story in Britain's normally reputable The Times recently went with the headline, "Is your child an Internet pirate? That'll be 4,000 pounds."
File sharing, where no money changes hands, has never been proven to have caused lost sales, say a large number of academic and other reports.
"According to an internal study done by one of the majors, between two-thirds and three-quarters of the drop in sales in America had nothing to do with Internet piracy," said The Economist piece. This isn't recent news. The report dates back to last October and, it states: "No one knows how much weight to assign to each of the other explanations: rising physical CD piracy, shrinking retail space, competition from other media, and the quality of the music itself."
Sharing on the Rise
Nothing loathe, the music industry claims efforts such as the one mentioned above are significantly reducing file sharing. However, this statement, parroted by the mainstream media around the world, doesn't even begin to hold water.
File sharing isn't decreasing. It's exploding.
New figures from p2p research firm BigChampage says the average number of p2p users online around the world at any given time in 2003 was 5,518,899.
By 2004, that figure had soared to 7,048,102. And up until June 17 this year, the number of people simultaneously logged into the p2p networks at any moment was 8,535,159.
In America, where the Big Four records have been engaged in another vicious sue 'em all campaign in an attempt to "persuade" customers into buying product, that number almost trebled from 2,936,656 in 2003 to 6,223,317 up to June 17, 2005.
---
Jon Newton
, a TechNewsWorld columnist, founded and runs
p2pnet.net
, based in Canada, a daily peer-to-peer and digital media news site focused on issues surrounding file sharing, the entertainment industry and distributed computing.
---