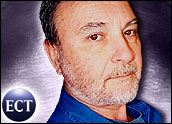 In a report on the upcoming P2P Litigation Summit, I mentioned "Big Music wants Britanny Chan," which describes how the Big Four are using the RIAA to terrorize a 14-year-old Michigan girl and her mother. Having already failed once to frighten Brittany through her mother, the cartel is now going after her again, this time as an individual.
Britanny was 13 when it all started, but she's now 14 and in this latest move, the Big Four are demanding that the U.S. District Court of the Eastern District of Michigan appoint a Guardian ad Litem — in other words, an official legal guardian — so they can go after her personally.
No Dice
In a bizarre marketing scheme, on behalf of the Big Four record labels — Britain's EMI Group, France's Vivendi Universal, Sony BMG from Japan and Germany and Warner Music, ostensibly American but headed up by a Canadian — the RIAA (Recording Industry Association of America), has been trying to sue Americans into buying "product."
The campaign is failing miserably. More and more people are logging onto the P2P networks every day, but nonetheless, the cartel continues to terrorize very ordinary men, women and children through lawsuits that, apart from anything else, seriously waste the time of already over-burdened courts. They achieve nothing beyond putting innocent people such as Tanya Andersen, a disabled Oregon mother, through unbearable torment.
By 7:15 am Pacific Time on October 6, the Chan post had pulled 39,567 readers in the fastest rise for any p2pnet story since we started counting. At the time, it was the second most-read item, the Number One spot still held by the "We're Not Taking Any More" Club post with "RIAA Victim Talks to p2pnet" at number three. No other posts had come anywhere near these kinds of reads.
A little more than an hour later, the Britanny piece had pulled in 50,463 readers and I predicted the cartel's persecution of the 14-year-old school-girl would become our most-read item ever within the hour. But I was wrong. It didn't take that long. And as I write this at 10:13 am PT on October 10, the number of reads has reached 107,106 and is still climbing.
And that's only p2pnet.
Getting at the Truth
People are paying attention online, but mainstream reporters aren't covering the Britanny Chan outrage. Nor are they showing any interest in the stories about the three American mothers — Patricia Santangelo, Dawnell Leadbetter and Tanya Andersen — who, by refusing to cave in to the RIAA's spurious "settlement" offfers, have started a protest which could spread around the world.
And yet the traditional media instantly generate shlock horror headlines every time the RIAA announces it has sued another 750 innocent men, women and children.
Is this lack of coverage significant? Is it linked to the fact large numbers of the corporate media are owned or controlled (through advertising) by the entertainment and software cartels?
Consumers would willingly pay any reasonable amount for downloads, but the Big Four are determined to milk them for all they're worth, and I use the word "milked" advisedly.
However, for the first time in history, the only real currency, raw information, is available to anyone who wants to mine it. This means the former cash-cows are becoming customers, again — people with free choice who can, and do, communicate with each other and who can, and do, make informed decisions based on information gleaned from the blogs and news sites that are slowly taking the place of the traditional print and electronic media outlets.
The Chan story is only one of the first to highlight the reality that customers are regaining control.
Sooner or later, news of this rapidly spreading consumer revolution will be picked up and reported by traditional print and electronic not controlled by vested interests.
Stay tuned.
---
Jon Newton
, a TechNewsWorld columnist, founded and runs
p2pnet.net
, based in Canada, a daily peer-to-peer and digital media news site focused on issues surrounding file sharing, the entertainment industry and distributed computing.
---