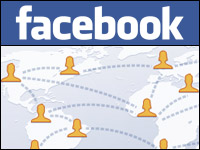 Facebook is allowing users with a little extra money to promote the status updates, photos or videos of a friend on the social network, according to multiple media reports.
The world's largest social network uses certain algorithms to determine which posts get the most traction on Facebook. Users are more likely to see status updates from people they interact with the most on the site, or posts that get the most likes or comments. A promoted post, then, allows certain statuses to get more eyeballs than they usually would.
The company allows advertisers a similar feature, giving them the ability to sponsor Facebook posts to push targeted ads. Last May, though, Facebook started allowing its New Zealand users to pay to promote their own posts, and then rolled out the service to its U.S. users in October.
At the time, Facebook suggested that users might want as many people as possible to see status updates about major life events such as an engagement, or clue in more Facebook friends to a charity mission or event. Now members will be able to give a little more visibility to friends' events and causes.
To ensure privacy, the promoted post will only be available to those who would have originally been able to see it.
Facebook is rolling out the feature globally, and it will be limited to those with less than 5,000 friends. Cost will depend on location and the estimated reach of the post.
The company did not respond to our request for further details.
Monetizing Facebook
Facebook's move might be a great way to get ahead of the competition in an Internet landscape where the major players need to figure out ways to make money from consumers, said B. Thomas Varghese, CEO and founder of eBizUniverse.
"This will open up opportunities for Facebook to market their services to consumers, rather than focus on just businesses," he told TechNewsWorld. "Google makes money from businesses but offers almost all their services to the direct consumer free of charge. This is a great opportunity for Facebook. We've been using this for several of our clients and it has been hugely successful."
Facebook has also been adamant that it will never charge for using the network. This isn't an indication that Facebook is ever going to renege on that promise, but it is a reminder that it is looking to do whatever it can to monetize its services, said Nipa Shah, president of Jenesys Group.
"There are many ways to skin the cat, right?" she asked TechNewsWorld. "Facebook can keep the user access free, but it'll make money in other ways, and this is yet another way they will get paid."
Worth It to Users?
It's unclear how many people would actually take advantage of the new feature; although the money spent on each promoted post might not be a huge investment, users won't be sure how much they'll get out of it, said Internet marketing expert Brian Carter.
Facebook provides advertisers with detailed information about views and shares for their sponsored stories. Without that information, it might be difficult to convince users to hand over their money.
"I won't pay to promote those posts until Facebook gives me the level of analytics that Facebook Page Insights gives me," he told TechNewsWorld.
There's also the issue of intrusion, Carter pointed out. It's possible a friend wouldn't want certain posts promoted.
"As people go, I'm one of the more promotional sort, and I just can't see doing it. In fact, I have friends who might be offended that I would promote their posts," he added.
Facebook doesn't have much to lose here, Shah admitted. At best, the feature could be an unexpected moneymaker; if not, it won't be enough to drive users away.
"Facebook usage has become very much a part of daily life," she noted. "It is just trying to figure things out, and even if they have to modify their policies or privacy settings to make this thing work, it can be quite an income generator."
In addition, it also gets individual Facebook users accustomed to the idea of paying for certain services, said Varghese.
"This move is not going to send users packing," he noted. "It depends on what else they might come up with in the future which will determine if users stick with Facebook."