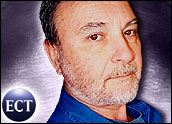 Canadians concerned about attempts to have Canada's Copyright Act re-written to suit the entertainment industry's desires are marshaling their efforts to make sure it doesn't happen.
Member of Parliament Peter Julian has introduced "Petition for Users Rights" signatures in Canada's Parliament. More than a thousand people have signed so far, and MPs will continue to hand in additional signatures by the batch.
"Petitioners want this House to maintain the balance between the rights of the public and the rights of the creators," said Julian. "They demand that the government not extend the term of copyright, and preserve all existing users' rights to ensure a vibrant public domain. The petitioners also call upon Parliament to ensure that users are recognized as interested parties and are meaningfully consulted about any proposed changes to the copyright act."
Creeping into Canada
If Canadian heritage minister Liza Frulla has her way, the Big Four record labels will soon be feeding their self-interested messages directly to Canadian kids in schools. And, "We'll also be addressing the peer-to-peer issue," she says. "It will give the tools to companies and authors to sue."
In the U.S. and Britain, "copyright law" has already been added to the three Rs; and the members of the Big Four music cartel routinely invade classrooms pushing "educational" programs to kids, with teaching institutions acting as sales and marketing outlets, and administrators, supported by taxpayers, working as unpaid staff.
The CRIA (Canadian Recording Industry Association of America) has been trying to do the same in Canada, but with a marked lack of success.
Frulla wants to remedy this. Using the 2005 Big Music Juno advertising fest in Winnipeg as her vehicle, she made it clear she'll follow the path laid out by her predecessor Helene Chalifour Scherrer, who a year ago this month promised to re-organize Canada's copyright act to enable the music cartels to sue Canadians for sharing music online.
Labeling 'Criminals'
"Frulla expressed her intention to toughen Canada's 'antiquated' intellectual property laws through proposed new copyright legislation to be tabled in June," said the Winnipeg Free Press.
When the minister talks about "tools" to "sue," she's referring to the fact that at the moment, the cartel (none of whose members have a significant presence in Canada) can't use Canadian law to terrorize online music lovers into buying over-priced and inferior "product."
In the U.S., close to 10,000 ordinary people have been mis-characterized as criminals and, thanks to cartel propaganda, most American are under the entirely false impression that file-sharing is a crime.
The music industry says it's successfully 'sued' these people for sharing files. In reality, every one of Big Music's victims has settled out of court (see story), being unable to take the multi-billion-dollar industry on by themselves. The labels use this to imply the people they're persecuting have admitted guilt of some kind.
The music industry, "has long blamed peer-to-peer file-sharing and music downloading for declining music sales," says the CBC.
Here To Stay
This isn't the case, however, as an ever increasing body of evidence, such as the most recent, a Japanese study, clearly proves.
Big Music also claims its legal actions are significantly reducing file sharing. In fact this, too, is manifestly untrue, as a number of academic and other studies, including an OECD report, amply demonstrate.
And as professor Michael Geist, Canada Research Chair in Internet and E-Commerce Law and a law professor at the University of Ottawa, said recently, "File sharing is certainly here to stay and the lawsuits and attempts at new legislation are attempts to put the toothpaste back in the tube."
---
Jon Newton
, a TechNewsWorld columnist, founded and runs
p2pnet.net
, based in Canada, a daily peer-to-peer and digital media news site focused on issues surrounding file sharing, the entertainment industry and distributed computing.
---