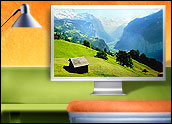 The world is getting a little thinner, according to Samsung Electronics. Company executives told International Meeting on Information Display and Exhibition (IMID) 2005 Business Forum attendees that the global flat panel display market would double in size within the next two to three years.
"The global LCD market is expected to grow from US$48 billion last year to US$70 billion in 2008," said Souk Jun-hyung, executive vice president of Samsung Electronics, during the IMID event in Seoul this week.
Souk used his opening address to make additional predictions. He said that 50-inch and larger sizes would emerge as flagship products in the plasma screen TV segment and 60-inch and larger sizes will be popular for projection TVs.
Rising Demand
According to the latest research from the Strategy Analytics Connected Home Devices service, global sales of flat panel TVs will increase by 66 percentin 2005 alone, generating $25.6 billion in retail revenues.
Samsung's Souk predicted that worldwide demand for LCD panels would outpace supply by mid-2006. "Samsung Electronics will consolidate its top position in the LCD sector by combining its enormous financial power and brand awareness," he said.
But given the state of the industry, the increased interest of consumers in flat-screen products and the declining prices of these products, iSuppli senior analyst Riddhi Patel believes panel makers are going to ramp up their fabs according to plan. "If that happens, then this demand can be achieved," she said.
Samsung, for one, reports it has begun production at its seventh-generation LCD plant and is also investing in eighth- and ninth-generation LCD production. Philips Electronics is Samsung's closest rival in the flat-panel segment.
Samsung vice president Kim Ha-chul also told conference attendees that annual global plasma screen display (PDP) demand would more than double to 15 million units by 2007 compared to this year's estimated 7 million units.
PDP prices plummeted by 40 percent last year thanks to an oversupply. But analysts expect the market to adjust itself over the next few quarters as demand rises.
Format Battle
LCD versus plasma screens is an upcoming war for living room space — and for dollars. These flat-panel TV formats are both thin, but that's where the similarities end.
"LCD and plasma are two different technologies addressing the same market," Patel said. "LCD is based on the liquid crystal technology whereas plasma is accomplished using a gas that is built into the television screen."
Which technology will ultimately win consumers' hearts? Analysts said it's too soon to tell, but in the meantime one thing is certain: Flat-screen manufacturers seem to be positioned to generate plenty of revenue while consumers figure it out.