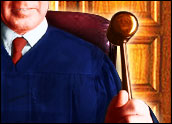 A circuit court judge in Florida's Miami-Dade County has decided not to ban the sale of a controversial video game to minors.
Judge Ronald Friedman previewed "Bully," a game scheduled to be released for Sony's PlayStation 2 on Tuesday. After watching a live demonstration of the game, he decided that it is not violent enough to justify taking action to prevent its sale to young consumers.
Troublesome Theme
Rockstar Games, the same company that produces the controversial "Grand Theft Auto" series, is the developer behind "Bully." Also known as "Canis Canem Edit" in Europe and Australia, "Bully" takes place at a fictional reform school called "Bullworth Academy."
The game centers on Jimmy Hopkins, a troublesome schoolboy who has been kicked out of every other school he has attended. The player acts out this boy's life as he stands up to bullies, gets picked on by teachers, plays pranks on malicious kids, wins or loses the girl, and engages in other activities.
The game does not make use of guns but is still drawing the ire of anti-violence activists, including Miami lawyer and video game critic Jack Thompson. Some are lambasting the game for what they consider its glorification of school bullying.
Video Game Vigilantes
Thompson filed a lawsuit against Rockstar parent Take 2 Interactive (Nasdaq: TTWO), as well as retailers Wal-Mart and GameStop, alleging "Bully" is a "nuisance" and a "Columbine simulator," referring to the deadly Columbine High School shootings that occurred in Littleton, Colo., in 1999.
Although the judge viewed the game, Thompson objected to a Take 2 employee being allowed to navigate it for him. Thompson claimed that the employee could have avoided making violent choices in the demonstration before the judge.
However, Friedman ruled that there was nothing in the game that wasn't on late night TV. He did agree to consider the matter further once the game was released, but Thompson has not announced plans to pursue the matter further.
Video game violence set in an educational environment is not a new theme. A video game based on the Columbine High School shootings, the deadliest episode of school violence in the U.S., stirred up similar controversy in May.
The online game, "Super Columbine Massacre RPG," circulates on the Internet with quality that more closely resembles an early generation Nintendo title. The game allows players to stand in for Eric Harris and Dylan Klebold, the duo who were responsible for killing 15 people and injuring many others.
Bold Moves
Illinois and California, among other states, have attempted to enact laws to prevent the sale of violent video games to minors. The Entertainment Software Association (ESA) has been successful in overturning those laws in federal court so far.
"Thompson has a poor track record — and he's out to grab headlines. By the same token, if the video game industry lose one of these suits, their ability to sell their games could be significantly limited," In-Stat analyst Brian O'Rourke told TechNewsWorld. "They are playing with fire."
O'Rourke recommends the industry adopt a rating system similar to the Motion Picture Association of America. The ESA could partner with retailers to ensure that consumers show the appropriate identification before purchasing adult-themed games, just as they do before viewing a rated-R movie or purchasing alcohol.
"A lot of parents aren't aware of just how vulgar some of these games really are," O'Rourke said. "It is rather shocking to people when they find out."