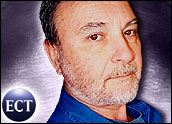 Take-Two Interactive Software, owner of the "Manhunt" video game that was banned in New Zealand and which sparked the adoption of new video/CD purchase and rental rules in Canada, recently announced a partnership with one of the members of the record label cartel that's currently suing p2p users around the world.
Take-Two's publisher Rockstar Games and Interscope Records, owned by France's Universal Music Group, have formed a joint venture to release the soundtrack to "Grand Theft Auto: San Andreas." Its release is scheduled for October 25.
PlayStation2 is owned by another member of the "sue 'em all" cartel, Sony. The other cartel members are BMG (Sony-BMG in Japan, Germany), Warner Music (USA) and EMI (UK).
Pushing Aggression
Recently a caption under a "Manhunt" graphic on CNET Networks' GameSpot said, "You get to meet — and brutally kill — some very interesting people." That caption has since been removed. But still there is a "Manhunt" description, prefaced by the statement that Rockstar's "Grand Theft Auto III" and "Grand Theft Auto III: Vice City," have done "pretty well for the company."
The description says, "Manhunt … serves up a disturbing blend of third-person stealth action that's equal parts 'Splinter Cell,' 'Tenchu,' and, because Rockstar loves its disturbing influences, snuff film."
"Snuff" film? This refers to a type of grotesque "reality" movie taken to its ultimate extreme. The victim — usually a woman — is video-taped while she's being mutilated and/or murdered. The "snuffy" is then sold to some very sick people.
But, "Rockstar loves its … snuff film."
Real-Life Murder
"Grand Theft Auto III" was blamed for inspiring two brutal murders in California, and a Haitian civil rights groups filed a lawsuit against "Grand Theft Auto: Vice City" because it instructed players to "kill the Haitians," awarding points for each kill.
File-sharing sites already have "San Andreas" listed for download, says SPOnG. One version — weighing in at a whopping, not to mention credible, 3.95 GB — is currently seeing a lot of activity. "If this proves to be the game, it marks a worrying turn of events for Rockstar and the industry in general," says SPOnG.
That's not all Take-Two/Rockstar needs to worry about.
Take-Two calls its Rockstar Games "a leading publisher of interactive entertainment geared towards mature audiences," that "markets its games responsibly, targeting advertising and marketing only to adult consumers ages 18 and older."
But "Manhunt" and other Take-Two games are being played enthusiastically bypeople under the age of 18, or whatever the "adult" age happens to be in any given country.
Earlier this year, a 17-year-old British youth admitted murdering a 14-year-old whose parents claimed the older boy was obsessed by "Manhunt."
Teens Make Plea
In response to a p2pnet.net story on the murder, a reader wrote, "I am a frequent user of Rockstar's 'Manhunt.' I enjoy playing the game with its intense scenario and its ferocious fights. I am a big fan of Rockstar's 'Grand Theft Auto' series also, which has similar game play compared to 'Manhunt.' By the way, just because I like these games doesn't mean that I am a violent person.
"Five news sites were running a poll. It was to do with 'violent' games being banned…. Why should these games be banned? Think of the other teenagers like me, who are not influenced by these games, who play the games to enjoy it, not to imitate what characters do in the game. If violent games were to be banned then the enjoyment of gaming will disintegrate.
"I am shocked at this incident, but it can't lead to 'banning' these types of games. Even if they were banned it would influence people to download warez copies of these games, which is not good at all."
The poster was 15.
Lack of Action
Meanwhile, UK electronics retailer Dixons was among the major companies which subsequently yanked "Manhunt."
But the game — and many others like it — are still easily accessed. In the new "San Andreas," for example, "players build a crime empire by robbing banks, stealing cars, running drugs and killing the competition," as a New York Post story put it.
ELSPA (the Entertainment & Leisure Software Publishers Association) is the UK's computer and video games industry trade group — something akin to the music industry's RIAA (Recording Industry Association of America), with all that implies.
"There should be a cautious attitude targeting non-adults with adult content," ELSPA director general Roger Bennett told English gaming mag MCV, according to SPOnG. "It is up to the publishers what they do, but we would hope they would be careful and target the right audience. We don't want to shoot ourselves in the foot again. What we don't want is a situation where the indefensible becomes indefensible. We don't want an Achilles' heel like this given recent events."
Clearly, Take-Two hopes the linkage with Big Music will inspire even more people to buy its murder-ware. And the labels? No problem. Business is business.
---
Jon Newton
, a TechNewsWorld columnist, founded and runs
p2pnet.net
, a daily peer-to-peer and digital media news site focused on issues surrounding file-sharing, the entertainment industry and distributed computing. p2pnet is based in Canada where sharing music online is legal.
---