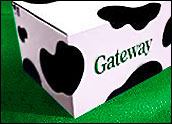 Gateway introduced three new server and storage products for the education, government and business markets yesterday, in a move analysts perceive as the niche player's attempt to take advantage of low Network Attached Storage, or NAS, price points.
The Gateway 9715 Server is a 4-way server platform for enterprise applications anddatabase deployments. The 9315 Storage Server and the 9415 Storage Server leverage the existing hardware architecture of Gateway's 9315 and 9415 Servers, and provide new NAS features such as print server, backup appliance and the ability to attach external storage.
"The Gateway 9715 4-way Server offers enterprise level performance that our professional customers require. The 9315 and 9415 NAS products bring new features to our storage product enabling the targeted solutions our customers need," said Tim Diefenthaler, senior director of server product marketing at Gateway. "We will continue to build upon our entire line of server, storage and networking products to deliver the capabilities and features our customers demand."
Partnering with Microsoft and Intel
The 9715 rack-mount server uses Microsoft Virtual Server 2005 or VM Ware applications. The Gateway 9715 can also be implemented as a blade server alternative with the ability to run multiple operating systems. The server is priced starting at US$3,999.
This model provides the capacity for four Intel Xeon MP processors with up to 8 MB cache. It can be expanded to support up to 32 GB of system memory and capacity of up to 3 TB of internal SCSI storage.
Both the Gateway 9315 Storage Server and the Gateway 9415 Storage Server offer NAS features, including print server, backup appliance and the ability for externally attached storage.
These models use Microsoft Windows Storage Server 2003 software and offer scalable memory and storage options with the choice of single or double CPUs. Both models also support the latest 64-bit Intel Xeon processors.
The Gateway 9315 Storage Server is priced at $2,197 and the Gateway 9415 Storage Server is priced at $2,098.
Finding a Niche
Illuminata analyst Gordon Haff told TechNewsWorld that NAS prices have dropped enough to allow companies to offer low-end appliances that are well within the reach of even the smallest businesses. Gateway is attempting to find its niche in that market.
"There's at least been a perception that NAS has been out of reach for small to medium business," Haff said. "People had to do a lot of rolling their own in many cases. They weren't necessarily super easy to install. The low-end appliances on the market today are more specialized, simplified and optimized."
The question is, can Gateway gain market share with its offering? That remains to be seen. Haff said Gateway has fallen far behind its one-time peer Dell Computer. The company has shifted strategies again and again without tremendous success.
"Gateway has managed to stay in business, which is more than you can say for a lot their contemporaries in what used to be the PC clone business," Haff said. "But certainly it is a niche player at this point."