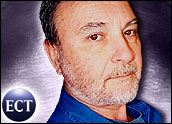 Thanks to the combined powers of music and the Internet, anywhere between 8 million and 9.5 million people around the world are logged on to peer-to-peer file-sharing networks at any given moment. And, at a conservative estimate, some 1 billion files are being swapped online between and among music lovers.
Big Music claims this is directly responsible for declining sales. It also endlessly states that the multibillion dollar industry is being "devastated" by downloads and file sharing.
In reality, the music industry is healthy — if bloat is healthy. It has never been able to show how a single download equals a lost sale. Furthermore, careful academic studies say file sharing has zero impact on music sales.
Blacklisting Morpheus
A while back I reported that Big Music had blacklisted StreamCast Networks, owner of the P2P file-sharing application Morpheus.
Morpheus and Grokster are going head-to-head with the movie studios and majorrecord labels in what amounts to Hollywood versus P2P. In testimony at therecent U.S. Senate committee hearing into P2P technology, StreamCast CEOMike Weiss quoted from a voicemail of Real Networks executive Richard'Ryc' Brownrigg.
The "labels have blacklisted you guys," he quotes Brownrigg as saying in themessage. He continued: "So that is the problem we've got.
"Basically, what they're saying is you've got to denounce P2P, and/orresolve the lawsuit is what you have to do. And so, until they resolvethe lawsuit, they're going to keep you on the blacklist, which means I'mprobably not going to get much latitude to do anything."
Big Story, No Ink
Weiss is still waiting for some kind of response to his demand that theFederal Trade Commission or Department of Justice investigate the"apparently collusive, anticompetitive conduct in restraint of trade bythe music industry."
Even giving that principal print and electronic mainstream media outletsaren't actually owned by entertainment industry companies, they still depend onthe entertainment industry for a substantial amount of their revenues, so itwasn't very surprising that what should have been a big story didn't seemuch ink.
Now elements of the corporate entertainment industry itself areinvolved.
"The recording industry has 'blacklisted' Internet file-sharing services and is preventing other companies like RealNetworks from doing business with them, according to music and technology industry officials," Reuters states.
The article continues, "The record labels' attempts to isolate song swapping 'peer to peer' networks like Grokster and Morpheus have blocked deals that could have potentially brought in millions of dollars in revenues," sources said, and "might violate antitrust laws. Record labels say they are simply refusing to work with companies they regard as illegal."
Corporate Entertainment
Reuters points out that millions of file sharers are online every day and says the recording industry claims "such unfettered copying has cut into CD sales," resulting in lawsuits against file sharers. It also says, "Even as the two sides are locked in litigation, several peer-to-peer firms have tried to open talks with the industry. So far, recording companies have shown little interest."
But as with the blacklist story, this apparently isn't news. Commercial P2P operators and others have been trying to open talks with the corporate entertainment industry since Day One. The latter just isn't interested.
"There is a big difference between exploring a new business model in a legitimate and open business manner…and going into business with the taxicab driver who just ran the red light and hit me," EMI Group Executive Vice President John Rose said at the Senate P2P hearing.
"We have the right and the sense not to do business with people who aim to profit or otherwise enable the theft of our artists' music," Reuters quotes Larry Kenswil, president of Universal's eLabs division, as saying. Reuters continues: "Other label officials said privately that their contracts commonly are written to ensure that their material is not sold alongside illegal or objectionable content."
Objectionable Content?
The "objectionable content" phrase is particularly interesting given that the labels are themselves the purveyors of some of the worst filth imaginable.
Be that as it may, there's an extremely simple and highly cost-effective solution.
Hollywood (the catch-all for the labels, studios and all the other entertainment industry components) should be working with the P2P file-sharing community — operators and users both — instead of trying to wipe them out.
---
Jon Newton
, a TechNewsWorld columnist, founded and runs
p2pnet.net
, a daily peer-to-peer and digital media news site focused on issues surrounding file-sharing, the entertainment industry and distributed computing. p2pnet is based in Canada where sharing music online is legal.
---