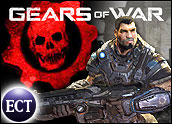 As the next generation of video game consoles duke it out in the marketplace, game publishers are anxious to see how their titles fare in the fray.
From war games to music games, there is no lack of variety to satisfy gaming enthusiasts of all ages this year. There are plenty of options for the Nintendo Wii, Sony PlayStation 2 and 3, and Microsoft Xbox 360.
In Part 1 of this two-part series, we'll check out five hot new video games that have analysts talking this season: "Gears of War," "Guitar Hero II," "Resistance: Fall of Man," "Elite Beat Agents" and the controversial "Bully."
Gearing Up for Gears of War
"It looks like the big game to beat for all the consoles is'Gears of War' for the Xbox 360," Paul Limon, director of gaming and social interaction at Liquid Generation Studios, told the E-Commerce Times.
Indeed, "Gears of War" was one of the most anticipated video game launches of 2006. The game made its debut in November as an exclusive Xbox 360 title developed by Epic Games and published by Microsoft Game Studios. Epic expects to sell more than 1 million copies worldwide this holiday season, which would set a new mark for the fastest-selling original Xbox game.
"This brute third-person shooter for Xbox 360 delivers spooky settings, rough-and-tumble action and gore that mimics filmdom's top splatterfests," Libe Goad, managing editor at AOL's GameDaily, told the E-Commerce Times. "For anyone who owns an Xbox 360, this is the game you want someone to buy you — or vice versa — this year."
"Gears of War" is an intense game that thrusts players into humankind's epic battle for survival against a nightmarish race of creatures known as the "Locust Horde." Combining cinematic, visceral game play with dramatic storytelling and intense action, "Gears of War" is bound to be a hot holiday ticket item. The game also allows single-player and multiplayer online play via Xbox Live.
"It's not perfect, but the art is amazing, and all that detail makes this alternate world feel authentic and really fleshed out," Limon said. "Also, the game uses realistic combat tactics that are unique to the shooter genre and help to shake up the standard, mindless run-and-gun games that flood the market."
Be a Guitar Hero … Again
"Guitar Hero II" for PlayStation 2 and Xbox 360 is another game that is worthy of "hot" status this holiday season. It hit shelves in September as a follow-up to the award-winning "Guitar Hero" game developed by RedOctane and published by Activision. As its name suggests, the interactive game lets players transform themselves into guitar heroes and has inspired its fair share of wannabe rock stars.
"Shred like a guitar god in this rocking sim game," Goad suggested. "Plug in the guitar-shaped controller and then press the color-coded buttons and strum bar to correspond with notes on screen. Rock out to songs like 'Shout at the Devil,' 'War Pigs' and, of course, 'Free Bird.' Like Wii sports, anyone can play this — and while it might look completely ridiculous, it really makes you feel like a fret-bending rock 'n' roller."
Picking up where "Guitar Hero" leaves off, "Guitar Hero II" offers a new track list, new concert venues and additional play modes — including the ability to transform the original "Guitar Hero" SG Controller into a rhythm, lead or bass guitar. The sequel song list remains firmly in the rock domain, pulling from a mix of classic rock, "hair" metal, heavy metal, modern rock and alternative titles.
Veteran music video game developer Harmonix Music Systems enriched the rock star experience with multiplayer modes. In addition to the traditional head-to-head competition, "Multiplayer Co-op" mode allows players to collaborate in order to beat songs, with each guitarist playing a separate guitar track.
"Not only can you rock with a real (plastic) guitar, but for the second game, all the songs are the originals," David Hodgson, an author of popular Random House video game guides, told the E-Commerce Times.
"You can have a 'guitar-off' with your friends — they play a riff, you play a riff, you mess up, they become a guitar god," he added. The game features "over 30 licensed tunes, and the dance-dance-revolution game play, but with axes instead of floor mats."
Resistance: Fall of Man
Those who can get their hands on a PlayStation 3 can enjoy Insomniac Games'"Resistance: Fall of Man," which looks almost as good as "Gears of War."
The game features U.S. and British forces banding together in a last-ditch effort to save England from a parasitic scourge known as the "Chimera." This species infects other life forms with a virus that rapidly mutates victims into new Chimera. The gamer plays the part of U.S. Army Ranger Nathan Hale, fighting alongside a group of British resistance soldiers to free the country from the Chimera and to halt their spread around the world.
"Although it's still a first-person shooter set in World War II, it has a twist, because it's allies versus aliens instead of the same old allies versus Nazi's that they have run into the ground. It also benefits from being the only really cool launch title for PS3," Limon noted.
AOL's Goad called the game a sci-fi first-person shooter for the thinking person. The game may start off a little slow, she added, but a few levels in, it's pure brilliance.
"Anyone who actually manages to score a PS3 this holiday must spend the extra US$60 to get this also," she said.
Bully: Not so Controversial After All
PlayStation 2 owners may enjoy"Bully." Rockstar Games, the same company that produces the controversial "Grand Theft Auto" series, is the developer behind "Bully." Also known as "Canis Canem Edit" in Europe and Australia, "Bully" takes place at a fictional reform school called "Bullworth Academy."
The game centers on Jimmy Hopkins, a troublesome schoolboy who has been kicked out of every other school he has attended. The player acts out this boy's life as he stands up to bullies, gets picked on by teachers, plays pranks on malicious kids, wins or loses the girl, and engages in other activities.
The game does not make use of guns but is still drawing the ire of antiviolence activists, including Miami lawyer and video game critic Jack Thompson. Some are lambasting the game for what they consider its glorification of school bullying.
"If you're a Florida lawyer with a mainstream media campaign against video games," Hodgson said, "you'd tout this as the end of western civilization. If you took a moment to actually play this, you'd see it's about as violent as Degrassi Junior High — it's rated 'Teen,' there's no blood, and the game play is 'sandbox' but not 'bloodbath.'"
Elite Beat Agents
Want to try something out of left field? Try"Elite Beat Agents" for Nintendo's DS. It's a Japanese rhythm-action game where an all-male cheerleading squad travels Japan and helps citizens out with their problems by dancing with them.
"Words fail me. Tap your stylus to 'Let's Dance' (by David Bowie) and 'Believe' (by Cher) in a variety of distinctly odd, but hopelessly addictive, musical challenges. I've purposefully not told you all about this because you must experience it for yourself!" Hodgson insisted.
Want some more suggestions? Don't miss Part 2 of this two-part series that gives you the inside scoop on some of the hottest games available this holiday season.