HTC launched its newest smartphone Tuesday, sporting a revamped interface and new entertainment features.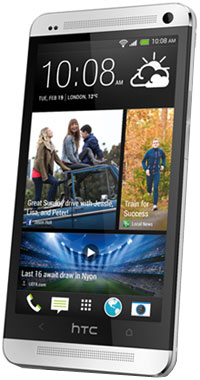 The HTC One
The HTC One has a 4.7-inch display in an industrial-looking aluminum body. It also has a refreshed Sense interface, HTC's take on the Android operating system. Its BlinkFeed home page gives One users a rolling media feed that draws news and status updates from social networks and elsewhere.
The One's entertainment options include a 1080p Super LCD 3 display. The phone also can be connected to SenseTV to act as a television remote that can control and access audio, program guides and TV channels.
It has dual frontal stereo speakers that provide what HTC has dubbed "BoomSound" audio. The enhanced sound, which is amplified with the company's Beats Audio partnership, is also heightened for audio recording and phone calls.
The One will be available by the end of March. It will come with either 32 GB or 64 GB of storage. HTC hasn't released any pricing details yet. The company did not respond to our request for further details.
Winner for HTC?
HTC went out of its way with the One to tap into what consumers are shopping for in a smartphone, said Wayne Lam, senior analyst at IHS iSuppli.
"HTC has really tried to learn about all the different usage scenarios," Lam told TechNewsWorld. "With One, HTC is really looking at content creation, entertainment and social media, which is what consumers are really using their smartphones for now. HTC is hoping it can monopolize the market in some of those areas, and really be a part of what consumers want in a smartphone."
That strategy may pay off, said Colin Gibbs, an analyst at GigaOM Pro. The company has seen its momentum in the market wane over the past few years; homing in on a few areas of consumer smartphone demand could be just what HTC needs to regain some buzz.
"HTC desperately needs a hit smartphone, and the One has a chance to be it," Gibbs told TechNewsWorld. "HTC probably can't compete at the very high end of the Android market that Samsung dominates, so it was wise to differentiate the One with a cutting-edge camera and innovative user interface. It certainly has a chance to regain its status as a major vendor of Android smartphones. The One definitely could be a first big step in that direction."
Beyond Innovation
No matter how impressive the HTC One is, the company needs more than just innovative features to outdo its competition, said Lam. The U.S. smartphone race is dominated by Samsung and Apple, and both tech giants have the deep pockets necessary for aggressive marketing campaigns.
"HTC has been very frank in acknowledging that there are two juggernauts in the market, so they can get overshadowed very quickly," he pointed out. "The market is about to get inundated with new releases, so they're trying to get ahead. They've been very good at innovating and have been the first to have the latest hardware, and that's what they're trying to do again here. The industry is a fight for third place and that's how they can differentiate."
That's not an easy task for any company that isn't Apple or Samsung, Lam noted. If HTC can drum up the right amount of consumer excitement about the One, though, it could have a chance at being a more competitive Android contender.
"HTC is definitely hurting in terms of what they were able to do in 2010 and 2011," he said. "They have a limited market to capture consumer imagination with all these new features, but they have a lot of the right tie-ins here with TV and social media to get a bigger edge with branding and make this an HTC experience, not an Android experience."