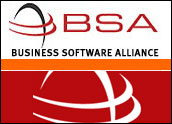 A trade group of technology companies has issued a policy statement urging Congress to take a close look at the controversial, so-called Induce Act.
The Business Software Alliance (BSA) adopted a policy urging that "U.S. Senate legislation introduced to stem the growth of online piracy [Induce] should be clarified to ensure that it is properly balanced to curtail harmful practices while avoiding adverse unintended consequences for legitimate technology companies."
The policy, issued in a statement headlined, "Trade Group Applauds Senators for Their Commitment To Fight Piracy," also calls for measures to ensure that "weak, harassing or frivolous suits are not heard by the courts."
Beneficial Technologies
"We urge you to ensure that beneficial technologies are not put at risk by the need to stop bad actors and to avoid overbroad or ambiguous standards that could chill innovation, deprive consumers of access to beneficial new technologies and encourage costly litigation," Robert Holleyman, the organization's president and CEO, said in the statement.
Holleyman said the Induce Act must be "properly focused and balanced, should be viewed as only one of several elements to finding solutions to the problem of P2P piracy."
He asserted that "BSA believes that the most effective way to address the harm done by operators of illicit file-sharing networks is through the marketplace."
The BSA's members are: Adobe, Apple, Autodesk, Avid, Bentley Systems, Borland, Internet Security Systems, Macromedia, NC Software/Mastercam, Microsoft, Network Associates, SolidWorks, Sybase, Symantec, UGS PLM Solutions, VERITAS Software. "Policy" members are Cisco Systems, Entrust, HP, IBM, Intel, Intuit, RSA Security.
Betamax Case
The stance appears to be in line with that of Induce (Inducing Infringement of Copyrights) Act opponents. Forty-two major companies are actively opposing Induce, saying it would "chill innovation and drive investment in technology (and accompanying jobs) overseas."
U.S. Register Marybeth Peters recently declared herself an Induce backer and, among other things, is calling for the 1984 Betamax case to be reopened. In that case, the movie studios lost in their effort to bar the first consumer VCRs because of their potential to record movies.
However, Microsoft and other Induce Act supporters suggest the bill clearly states that "the Supreme Court's decision in the Betamax case is unaffected."
Policy Statement
In its policy statement, the BSA says the bill should:
Clarify that multipurpose technology products that can be used for commercially significant, legitimate purposes are not subject to liability. BSA suggested that the bill clearly state that the Supreme Court's decision in the Betamax case is unaffected.
Clarify that to meet the intent standard of the bill, an actor must be shown to have engaged in conscious, recurring, persistent and deliberate acts demonstrating that the acts caused another person to commit infringement.
State specifically that mere knowledge by a developer of technology, or knowledge by a provider of a service, of the infringing acts of another person using that technology or service is not sufficient to demonstrate the requisite specific intent.
Clarify that the bill does not create liability based on advertising or on providing support to users, including instructions for using the technology provided through manuals or handbooks, nor by providing assistance for using a product through a company's online help system or telephone help services.
Develop a mechanism to ensure that weak, harassing or frivolous lawsuitsare not heard by the courts, by establishing a way to ensure such cases are not brought without some prior review for its merits.