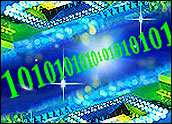 Looking to maintain its competitive advantage for years to come, Intel yesterday said it has developed a new, ultra-fast, yet very low power prototype transistor.
The transistor uses new materials that could form the basis of Intel's microprocessors and other logic products beginning in the second half of the next decade.
Intel and QinetiQ researchers have jointly demonstrated an enhancement-mode transistor using indium antimonide (chemical symbol: InSb) to conduct electrical current.
Transistors control the flow of information/electrical current inside a chip. Intel said the prototype transistor is much faster and consumes less power than previously announced transistors. Intel anticipates using this new material to complement silicon, further extending Moore's Law.
"The results of this research reinforce our confidence in being able to continue to follow Moore's Law beyond 2015," said Ken David, director of components research for Intel's Technology and Manufacturing Group. "As was the case with other Intel technical advancements, we expect these new materials will enhance the future of silicon-based semiconductors."
Less Power, More Performance
Significant power reduction at the transistor level, accompanied by a substantial performance increase, could play a crucial role in delivering future platforms to computer users by allowing an increased number of features and capabilities, according to Intel.
The company said considerably less energy used and heat generated could addsignificant battery life for mobile devices and increase opportunities for building smaller more powerful products.
"By providing 50 percent more performance while reducing power consumption by roughly 10 times, this new material will give us considerable flexibility because we will have ability to optimize for both performance and power of future platforms," David said.
New Uses for Today's Technology
InSb is in a class of materials called III-V compound semiconductors which are in use today for a variety of discrete and small scale integrated devices such as radio-frequency amplifiers, microwave devices and semiconductor lasers.
Researchers from Intel and QinetiQ have previously announced transistors with InSb channels. The company said the prototype transistors being announced this week, with a gate length of 85nm, are the smallest ever, at less than half the size of those disclosed earlier.
Intel said this is the first time that enhancement mode transistors have been demonstrated. Enhancement mode transistors are the predominant type of transistor used in microprocessors and other logic. These transistors are able to operate at a reduced voltage, about 0.5 volts — roughly half of that for transistors in today's chips — which leads to chips with far less power consumption.
Another Rabbit in Intel's Hat
Roger Kay, Principal Analyst for Endpoint Technologies Associates, told TechNewsWorld that it appears Intel has pulled yet another rabbit out of itsresearch hat.
"Obviously, in order to keep pulling off its magic Intel has to keep finding new ways to keep feature sizes down. This development is going to allow themto do that," Kay said. "It's pretty amazing stuff when they can find a new process or a new material that can help them to keep going in that respect."
Of course, there are challenges. Fitting more data on a chip also concentrates more power on portions of the chip. So while there is reducedpower consumption, there may be increased power concentration. Leaping over that industry hurdle, Kay said, would require Intel to pull another trickfrom its sleeve.
"I am sure that the development guys are probably raising questions about power concentration even as the researchers come up with this new material,"Kay said. "It's not trivial to get from the research discovery to the production of silicon."