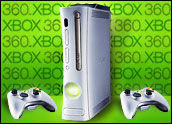 In a move to one-up the competition during the peak season for video game console sales, Microsoft on Tuesday launched its fall Xbox Live Update complete with more than 85 new features.
Xbox owners can download a free system update that offers new features, enhancements and support for native high-definition 1080p games and movies, along with faster Arcade game list display times and more choices for video playbacks.
Microsoft is distributing the free update via Xbox Live to its Silver and Gold members. The initiative is meant to encourage nonmembers to sign up for the service. Xbox Live is Microsoft's platform for high-definition, on-demand content. It offers players game demos and expansion packs, along with a host of other add-ons.
Enhanced Gaming
Microsoft's message with its fall Xbox Live Update is clear: enhanced gaming.
With 1080p resolution, gamers can have the best high-definition view of game and video content currently available. They can also stream video from a Windows PC, or play video files from data CDs and DVDs, or from storage devices like USB 2.0 flash drives.
Among the scores of enhancements Microsoft added are automatic updating capabilities for Xbox Live Arcade trial games. An expanded friends leaderboard within Xbox Live Arcade lets gamers view leaderboard details of their top 10 friends.
The Internet Factor
Much is at stake this holiday shopping season in the U.S. gaming industry, which is worth more than US$12 billion, according to Parks Associates. Currently, there are about 15 million casual gamers. Seventy percent of the Internet-equipped households in the nation include at least one game-playing person. Half have at least one gaming console.
Until now, the Xbox was the only one of the three leading consoles to offer an Internet component. However, Sony is launching an online gaming service with the November release of its long-awaited next-generation console, the PlayStation 3.
Sony hopes to maintain its market lead over Microsoft by offering a competitive PlayStation Network Platform including matchmaking, player rankings, video and voice chat, friend lists and purchasable content. Meanwhile, Nintendo is also planning an online gaming component for its new Wii console.
Expanding Revenue
The online initiatives are not surprising, with Parks estimating that some 3 million people pay for subscriptions to massive multiplayer online games, or MMOGs. Two million console owners pay for online games. That number is expected to grow in the future.
"Xbox Live is not a great revenue generator now, but there's a lot of potential in the future in two ways. One is subscription fees to gain access to play other people online and the second is to sell additional downloadable content in stores as well," In-Stat Analyst Brian O'Rourke told TechNewsWorld. "All three companies will have road maps for making larger and larger amounts of revenue over the years."
Advantage Microsoft
For now, Microsoft is ahead of the curve with its online gaming component. Its Xbox Live service has been available for about five years and has gained traction with gamers.
Despite the 85-plus new enhancements, though, the Xbox Live update is not likely to sway many consumers as they choose a new gaming console this holiday shopping season, O'Rourke noted.
"People will look at [a console] first and foremost to see if it has the features they want at a price they are willing to pay when making a decision," he argued. "Xbox Live is a selling point, but the update will not make a major impact."