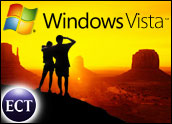 Microsoft added to the hullabaloo surrounding the pending arrival of the Windows Vista operating system with its release this week of Vista hardware requirements for consumers who are getting ready to make the switch.
The company launched a campaign called "Get Ready" to help customers make hardware upgrade decisions to accommodate Vista. It also announced the availability of Windows Vista Capable PCs, the upcoming availability of Premium Ready PCs and the availability of the Windows Vista Upgrade Advisor beta.
"Customers have many options and choices to make when it comes to buying a PC today. A wide range of form factors, price points and new technologies figure into their decisions," said Mike Sievert, corporate vice president of Windows product management and marketing at Microsoft. The Get Ready campaign aims to bring clarity to that decision-making process.
Vista-Ready PCs
Through the Windows Vista Capable program, Windows XP-based PCs that are powerful enough to run Windows Vista are now available from leading PC manufacturers worldwide, including Acer, Dell, Fujitsu Computer Systems, Gateway, HP, Lenovo, NEC, Sony and Toshiba.
Some, however, believe the process is too confusing. "I don't understand why buying a computer has to be this hard," said Directions on Microsoft lead analyst Michael Cherry. When Cherry's laptop died recently, he spent considerable time trying to determine what machine to buy next. He had Vista in mind.
"I bought a very expensive machine that I am stuck with. I don't think it's going be a great Vista machine. Even with these specifications that came out this week, if I were to go into a store today, I don't think I would do any better. It's just too confusing," he added.
Of course, the Windows Vista Capable logo intends to assure customers that the PCs they buy today will be ready for an upgrade to Windows Vista and can run the core features of Windows Vista. Cherry, however, does not want a machine that is merely capable, he wants to be able to exploit the full functionality of the operating system. That would require the Ultimate version of Vista, and a Premium Ready PC.
Premium Class
Microsoft is working with PC manufacturers to introduce the Windows Vista Premium Ready PCs. A Premium Ready designation ensures that the PC will deliver optimal Windows Vista experiences, including Windows Aero, which is designed to deliver a productive, high-performing desktop interface. Microsoft recommends that customers ask for PCs that are Premium Ready or choose PCs that meet or exceed the Premium Ready requirements for the best Windows Vista experience.
To qualify as Capable or Premium Ready, PCs must meet or exceed rigid requirements. A Vista Capable computer needs an 800 MHz processor, 512 MB of memory and a DirectX 9-capable graphics card.
Premium Ready machines need a 1 GHz processor, 128 MB of graphics memory, 1 GB of system memory, a 40 GB hard drive, and an internal or external DVD-ROM drive.
Some features available in specific premium editions of Windows Vista, such as the ability to watch and record live TV, may require additional hardware. More guidance on the requirements for these specific features is available at the "Get Ready" Web site.
Windows Vista Upgrade Advisor
In addition to Windows Vista Capable PCs and Premium Ready PCs, Microsoft also announced the availability of a beta version of the Windows Vista Upgrade Advisor. The Upgrade Advisor is a diagnostic software tool that will help customers choose the edition of Windows Vista that is right for them and determine if their current PCs are ready for an upgrade. The Upgrade Advisor beta also will assess if customers' devices will support the edition and features of Windows Vista that meet their needs.
Still, Cherry worries that consumer will wind up disappointed with the Vista experience because of the confusing selection process. It is the interim period before the operating system is running on actual hardware in retail outlets that concerns him most.
"The only safe way to proceed at this point is not to buy a computer for the next six months or so until Vista ships," Cherry noted. "I think a lot of customers will defer purchases. These very-hard-to-interpret specifications hurt Microsoft's partners, because if a consumer can't figure out what to buy, they won't purchase."